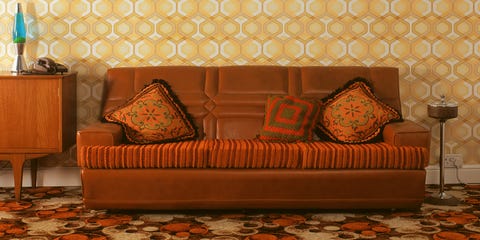 Seventies-inspired style is back in the home, according to , Dayna Isom Johnson. That means velvet, rattan, and fringe are becoming increasingly popular with shoppers — and some psychedelic colors are en vogue again too. Take a look all the ways you can embrace this vibe in your home.
$45
This vintage chair was made back in the 1970s, so it's as authentic as you can get and is perfect for a reading nook.
$149
These curtains blend the old (velvet) with the new (millennial pink) flawlessly.
3
Marigold Colorblock Pillow
$65
Move over, bright yellows (which were all the rage a couple of years ago). This mustard hue is back with staying power.
4
Vintage Marigold Champagne Glasses
$24 for 4
The next time you have guests over, serve cocktails in these antique glasses that add a touch of iridescent glam to your home.
$82
Along with marigold, greens are back on trend. Dip your toe into this hue with a stunning glass accessory.
6
Fringe Throw Pillow Cover
$40
This one-of-a-kind hand-sewn fringe and beaded throw pillow cover is soft and stylish.
$52
These throw pillows allow you to embrace velvet without making a major investment. Plus, in the right room, they will add just the right pop of color.
8
Forest Green Velvet Curtains
$38 and more
Or, if you want to dive in, these deep green drapes will infuse your room with '70s vibes as soon as they're hung up.
$62
Macramé? Check. Fringe? Check. Wicker? Check. We're pretty sure this plant basket has it all.

10
Peacock Wicker Rattan Plant Stand
$47
Another vintage piece, this side table can serve as a foot rest for a peacock chair or as a plant stand.