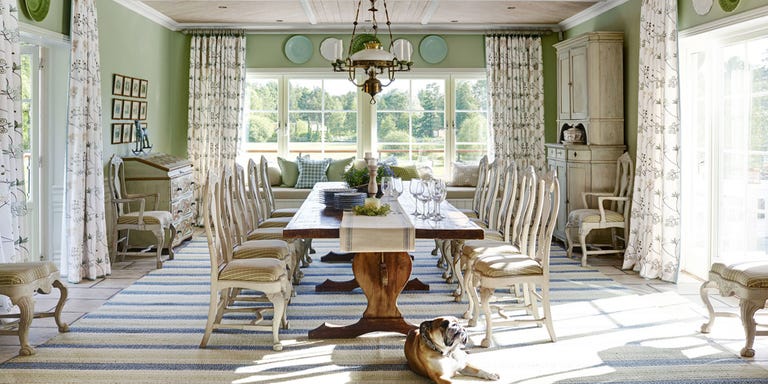 If you feel like there's a certain je ne sais quoi about French country decor, allow us to break it down for you. This style is all about natural materials, muted colors, toile fabrics, tapestries, fireplaces, and more — all with a rustic touch.
Toile Details
Graceful prints and a muted palette create a cozy bedroom in this North Carolina mountain getaway designed by Jane Hawkins Hoke. The walls and valances feature hound-dog toile.
Vintage Scores
In the dining room of this Manhattan duplex, designed by Garrow Kedigian, is a mahogany table circa-1900 that's surrounded by antique chairs that were purchased at a Paris flea market and re-covered in a Schumacher velvet.
Exposed Beams
Designer Mary Jo Bochner's Savanah, Georgia kitchen features exposed ceiling beams, distressed wood floors, and open shelving, which when all combined, create the definition of a charming room.
High and Low
The mixture of high-end (the chandelier) and antique (the chair) in this Long Island, New York dining room, designed by Ellen Niven, makes it feel like everything was sourced from a flea market in Provence.
Clock Show
In this Swedish home's entryway, designer Marshall Watsonchose used a palette of soft blues and grays, and hung a gaslit Swedish Art Nouveau chandelier in the center. But it's the antique Mora clock that steals the show.
Statement Lights
The weathered brass pendant light fixtures in this Michigan kitchen, designed by Rebekah Zaveloff, stand out against clean white cabinets and subway tile, creating an element of contrast that's often found in French interiors.
Neutral Palette
Soft, restful colors give this Savanah, Georgia kitchen, designed by Mary Jo Bochner, a calming presence. The walls feature a custom beige, 's Cromwell Gray is on the door, and is on the trim.
Rustic Nook
Designer Marshall Watson uses a traditional plate rack to showcase everyday dishes as wall art in this Swedish home. Meanwhile, a vintage table and chairs with a blue gingham seat covering add a touch of rustic charm.
Easy Patterns
Designer Ramsay Gourd let the exposed wooden beams in this Vermont farmhouse serve as the focal point on the room, but a green couch and upholstered Louis XV-style chairs are a close second place.
Draped Fabric
In the master bedroom of this Cape Cod estate, designer Kathryn M. Ireland's in blue is draped from a coronet, creating a soft texture and an ambiance perfect for drifting off to sleep.
Covered Chairs
In the dining room of that same home, Ireland chose a sea-grass rug to cover the floor and reupholstered the owners' Gustavian chairs to keep a traditional touch.
Detailed Window Treatments
Designer Marshall Watson opted for traditional French country motifs on the window treatments in the dining room of this Swedish home.
Custom Ceiling
For a girl's room in Lake Tahoe, designer Matt O'Dorisio added custom rails and stairs to reach the top of Pottery Barn bunk beds. Linen curtains and pillows in add a muted and pretty pattern.
Color Combo
To add dimension, designer Michael Maher layered neutral shades in this New Jersey colonial kitchen with dark stools. This lets the room's statement piece, the bronze chandelier, stand out.
Statement Fireplace
Designer Garrow Kedigan played up the classic architecture in this Manhattan duplex's living room by incorporating a symmetrical furniture layout around the room's stone mantel.
В интеренете нашел классный сайт , он рассказывает про
компания по раскрутке сайтов
.
В интеренете нашел авторитетный веб сайт , он описывает в статьях про возобновляемые источники энергии
https://alt-energy.in.ua/