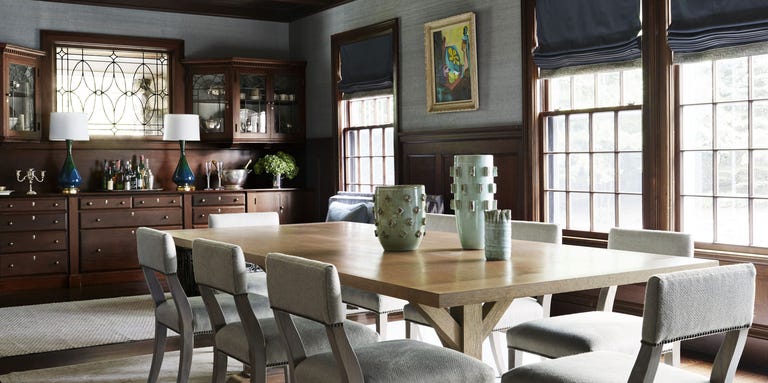 Weathered wood, antique furnishings, and stone walls are just a few reasons we're obsessed with rustic decor. Even better: When these details are incorporated into a dining experience, the result is a welcoming ambiance that will put guests at ease — so they can better enjoy the food!
Leather Accents
The formal dining room in this Lake Tahoe home features a custom plank table (fit for 14 guests!) and chairs covered in a hair-on-hide leather, which designer Matt O'Dorisio says "feels perfect in the mountains."
Original Rustic Floors
The pine floors in this Vermont farmhouse are original to the home, and were simply sanded down. "I don't even think we had to stain them," designer Ramsay Gourd says. "They had a natural richness that comes only with time." Exposed beams draw the eye up and make the room feel bigger.

Colorful Curtains
Designer Catherine Olasky chose "one of [her] all-time-favorite prints" ( by Thomas O'Brien for Lee Jofa) for the dining room curtains in her Texas home. This, along with South African Wonki Ware pottery, brightens up the rest of the weathered and woven furnishings in the room.
Stone Statements
Original stone walls makes this New Jersey room textbook rustic — but it's the side table that caught our eye. "In the dining rooms of fine old houses, you'll often see a small table in a bay window or off to the side," says designer Jeffery Bilhuber. "It's a way to enjoy the room with just two or three people."
Open Concept
"The dining area in the great room was tricky because it's so open," says designer Summer Thornton of a Florida vacation home. Her solution: She used as the anchor. Meanwhile, a chandelier draws the eyes up towards the exposed wooden beams.
Bold Colors
Designer Thom Filicia's challenge for this classic log house, was to honor its rustic roots, but refresh it to fit with modern times. A wooden stump-based table paired with colorful red chairs and a vintage teal rug does the trick.
Contrasting Details
Designer Annie Brahler-Smith had extra space in her Illinois-based cottage-like stable — so she decided to turn it into an entertaining area for summer dinner parties. A chandelier offers contrast to the rustic stone walls and wood ceiling.
Texter Overload
When updating this period home in Boston, designer Nina Farmer focused on texture. That means a horsehair wall covering, a sleek , and dining chairs covered in linen jute from .
Beach Inspiration
This Florida house, by designer Liza Pulitzer Calhoun, just goes to show that rustic decor can create endless vibes. In this case, mustard yellow walls and shell chandeliers create a beach ambiance.
Outdoor Vibes
Since the screened porch is the most-frequented room of this North Carolina mountain getaway, designer Hawkins Hoke turned it into the main dining space, complete with a table Hoke "drew on a piece of paper" and had custom made.

Custom Table
Designer Marshall Watson wanted the custom-made, wooden dining room table to serve as the focal point in this Swedish home, which explains why the rest of the room features soft, muted colors.
Mixed Textures
In the dining room of her Charleston rental, stylist Jill Sharp Weeks mixed elements from different eras and cultures, including a round worn table and photography of Weeks's collection of tribal jewelry.
Wood Surfaces
Designer David Netto turned this Long Island cottage into a Swedish-inspired home after a major rehaul. He used whitewashed pine for the walls and ceiling and the floor is made out of walnut.
Birdcage Fixture
Dark wood accents stand out in this Florida home, designed by Andrew Howard. He hung a pair of lanterns above a set of hickory table and chairs. "They feel less formal than a chandelier," he says.
В интеренете нашел важный web-сайт , он описывает в статьях про
askona.ua/
.
Этот полезный web-сайт с информацией про
Маставер
.