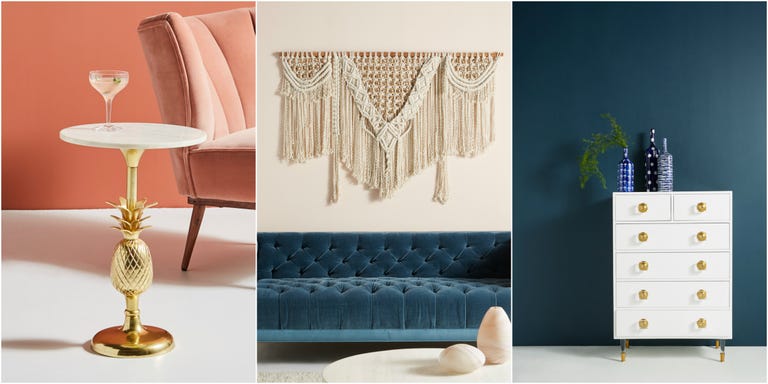 As if I couldn't already get enough of Anthropologie's home decor (I mean, look at this mirror), they have officially outdone themselves — and I'm swooning.
In a perfect partnership with , Anthro will now be selling a palette of 132 of the chic British paint and wallpaper company's original interior paint colors, in addition to primers, undercoats, brushes, and rollers. And they're all now!

What's more? Each of these gorgeous hues is water based and eco-friendly! Plus, this dream team will continue its relationship this year and expand the line to include wallpaper... I'm dying. Here are some of our favorites so far:
1
Farrow & Ball Book Room Red
is a gorgeous, aged terracotta that "creates an unapologetically aged feel and is perfectly suited to smaller spaces."
Recommended Primer & Undercoat: Red & Warm Tones
is the perfect dark lavender "with an underlying hint of black [that] feels both feminine and charming in light areas, but becomes more sophisticated and grey in darker rooms."
Recommended Primer & Undercoat: Dark Tones

3
Farrow & Ball Pink Ground
is a stunning dusty blush pink, which "creates the softest blush of color without feeling sugary. Try pairing with warmer shades such as or for a soothing finish."
Recommended Primer & Undercoat: White & Light Tones

4
Farrow & Ball Hague Blue
is a deep, dark blue. "The green undertones of this timeless, deep, and dramatic blue help it sit as happily outside the home as it does in small, dark rooms."
Recommended Primer & Undercoat: Dark Tones
is a gorgeous blue-grey that is a "popular choice for kitchen islands and particularly suited to darker spaces such as studies or paneled rooms."
Recommended Primer & Undercoat: Mid Tones