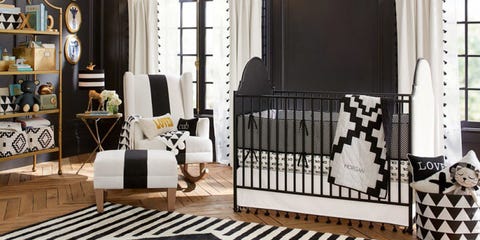 Your nursery should be a room your newborn adores. But since baby probably doesn't have an eye for design just yet, it should also be a space that reflects your personal style. Which is why we're swooning over the stellar partners two of our favorite home stores collaborated with to bring sweet decor to nurseries everywhere.
Okay, enough with the suspense: enlisted the help of (the designers behind Jessica Alba's daughters rooms). And tapped the bright and happy power of blogger . Here are a few of our favorites items from both lines that we know baby will love too:
A Mid-Century Modern Crib
The simple charm of this classic style (not to mention the soft green color) makes this crib stand out in this stylish nursery. Even better: It easily converts into a toddler bed or day bed once your baby gets a little bigger.
$379 to $499,

Just in case anyone questions your feelings, this whimsical wall art will showcase how you really feel about your little one at all times.
$149,
Sure, we love polka dots. But even more we love the surprising (and refreshing) colors used on this happy bedding, like pale peach, dark green, and dusty grey.
$100,
You can't go wrong with a black-and-white design. This classic wingback chair will stay in style from when your baby is a week old to when they're rocking their own child to sleep (can you say best hand-me-down ever?).
$649 to $1,499,
Lions, zebras, and giraffes, oh my! Even though the real-life version of these animals would have us shakin' in our boots, we'd gladly host these vintage cameo portraits in our nursery.
$69,
Do you spy the soft pink heart in the middle of this bed? It's so much sweeter than a plain white alternative.
$19,
A flamingo holding a blanket? We honestly don't think we can handle this much cuteness — but we're sure any newborn would gladly embrace this security blanket for us.
$15,
This lamp is a shining example of how animal decor can be both playful and supremely stylish — and the giraffe's head sticking out on top of the lampshade is just the cherry on top.
$169,
The only thing better than color toys that basically double as art? Sides that let you slide family photos into 'em so your baby can play with family even when they're not in the room.
$25,

Pillows Fit for a Princess
Decorative statement pillows like these add serious sweetness to an otherwise simple baby beds — we're especially keen of the sleeping kitty cat that will hopefully set a good example for little ones to keep their eyes shut for a few extra minutes in the morning.
$23 to $31,