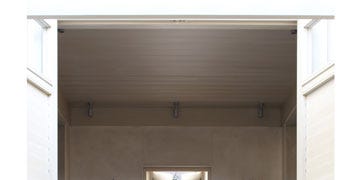 From Africa to Australia, the decor in this home is a happy collision of international cultures. Designer Thomas Hamel mixed global finds like midcentury-modern Italian lighting with Afghan carpets and a Georgian English bookcase with an inlaid trunk from India. Check out the photos for a decorating tour around the world.
A Strong Global Flavor
The entry sets the tone for the rest of a Vero Beach, Florida, house, decorated with a strong global flavor by Thomas Hamel, an American designer who lives in Sydney, Australia. He paired vintage 1970s sconces with African mud pots and a stone and iron Nero console from .
Hidden TV
The family room TV pops up from a custom cabinet under an Australian landscape painting.
A Custom Headboard
A dramatic headboard, designed by Hamel, is the star attraction in the Moroccan-inspired master bedroom. It's upholstered with 's Campanelle. Behind it, a Venetian plaster wall by Carol Makris evokes polished stone. A subtle geometric frieze on the adjacent wall strikes an exotic note. An inlaid trunk from India holds two TVs. Rug from .
A Global Dressing Room
Even the dressing room vestibule is a mix of cultures—a Chinese-style bronze table by , a hanging light, an antique Italian hall chair.
Mix of Patterns
Hamel added the same fumed oak to the arms of the sofa that faces the banquette. The Tavolino coffee table from is a simple rectangle in wood and iron, but it adds a lot of texture. Afghan rug from . The shell mirror was custom-made in Australia. African nesting tables from .
International Vintage
A vintage blue leather armchair is an unexpected touch in the study. Ottomans are by Michael Berman from .
Kitchen
Hamel hung three different styles of Beat lights over the large island, made of oak and Lagos Blue . He designed the barstools.
Cultures Collide
Jalousie windows filter the light above a wraparound banquette that gives the living room a Middle Eastern aura. Pillows are made of African and Indonesian textiles collected by the owners. Over the fireplace, a steel frame with antique mirrored panels hides the TV. Woven leather chairs from . Dotted Tube floor lamp by . Stucco walls are painted 's Cement Gray; trim is White Down. The cypress ceiling is lime-washed.
Indoor-Outdoor Seating
A blue ceramic table base adds a splash of color.
Outdoor Dining
Dining under the pergola in Dedon Marrakesh chairs from .
Pool Lounge
The living room opens to the pool. Coral stepping stones at one end let you walk on water.
A Touch of Morocco
Detail of the master bedroom's Moroccan-style fireplace. Tile by .
A Chaise Sleeper
Turkish-style pillows accent a chaise in the master bedroom.
Outdoor Daybed
There's a round opening in the roof of the pavilion, so you can lie on the daybed, which is suspended by rope, and look up at the stars.
A Concealed Door
A powder room door practically vanishes against the stairway, made of fumed oak from the Netherlands. The Antique Barre Grey limestone floor is from .
Bathroom
Cool gray walls—Smoke Wax limestone by —set off paintings by Australian artist Tony Tuckson in the master bath. Floor is aged Petit Granite from . City bathtub from .
Dining Room
Sliding panels separate the kitchen and dining room; the lacy fretwork is reminiscent of Indian jalis. Klismos chairs—'s Garden chairs—surround a custom Parnassus dining table in white oak from Ziyi chandeliers from .
Узнайте про классный блог на тематику
https://pills24.com.ua
.
В интеренете нашел важный веб портал на тематику
http://1cs.com.ua/
.