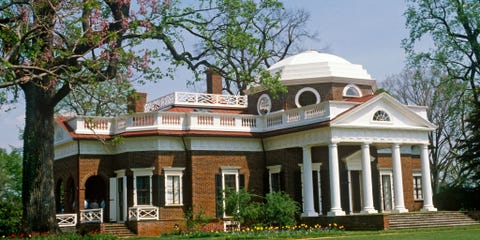 Take just a short tour of the country and you'll see there's no quintessential "American home." And if you do have something in mind, chances are it's way different from someone else's definition.
So how did our houses, apartments, and condos get so different, anyway? A new PBS special called 10 Homes That Changed America is trying to answer that question. The second part of a series (it also looks at the most influential parks, towns, and buildings), the hour-long documentary visits 10 historic residences across the country that impacted how we live today.
To watch the special online and to learn more about the experts' top picks, visit pbs.org.
1
Taos Pueblo — Taos, New Mexico
It's one of the oldest continuously inhabited structures in the world — and the 150 or so Pueblo Indians who live there intend to keep it that way. The adobe compound dates back an entire millennium, and running water and electricity are banned according to tradition. There has been one modern change, however. Residents used to access the homes via external ladders for defense purposes, but they recently added (much more convenient) entrances on the first floor.
2
Monticello – Albermarle County, Virginia
Dust off your high school history textbook — Thomas Jefferson's Charlottesville plantation may sound familiar. The third President designed the neoclassical home himself, popularizing stately red brick buildings with grand porticos across the South.
3
Lyndhurst – Tarrytown, New York
This fanciful Gothic castle has belonged to a New York City mayor, a prominent merchant, and a railroad tycoon. The mansion is now open to the public, and served as the backdrop for several movies, including 2014 romance flick Winter's Tale.
4
The Tenement Museum – New York, New York
This Lower East Side apartment building, which is now a prominent museum, housed almost 7,000 immigrants from 1863 to 1935 in cramped (and sometimes shocking) conditions. "This was one of the most emotional parts of the series," said host Geoffrey Baer. "I'm living the life that ancestors came to America for, and dreamed of, then they were living in these spaces."
5
The Gamble House – Pasadena, California
If this abode looks familiar, it's because it starred as Doc Brown's house in Back to the Future. In real life, however, Gamble family (you know, of Proctor & Gamble) commissioned the Arts and Crafts style mansion as a summer home in 1907.
6
Langston Terrace Dwellings – Washington, D.C.
As one of the first federally-financed housing projects, this 1930s-era apartment complex set the standard for low-rent, urban living. Architect Hilyard Robinson believed the community would "provide not only safe housing for working-class and poor people, but also housing that would uplift the spirits of the residents."
7
Fallingwater – Mill Run, Pennsylvania
An ode to American architecture wouldn't be complete without the most well-known designer of all. Frank Lloyd Wright's famous Fallingwater, featured on a 1938 cover of TIME magazine, overhangs a dramatic 30-foot waterfall. Apparently, the home's residents were surprised when they first saw the architect's plans — they thought the house would have an excellent view of the river, not be right on top of it.
8
Marina City – Chicago, Illinois
Film buffs will recognize these 1964 "corncob" towers from movies like The Blues Brothers, Ferris Bueller's Day Off, and The Dark Knight. The Windy City skyline staples were once the world's tallest residential buildings, designed to be a "city within a city." The original amenities included a gym, pool, ice rink, bowling alley, stores, restaurants, and (of course) a marina for pleasure boating. If that wasn't enough, the former movie theater is now the famous House of Blues.
9
Eames House – Pacific Palisades, California
It's a textbook midcentury home, which is no surprise considering husband-and-wife team Charles and Ray Eames designed it and then lived there. The colorful exterior soon became a favorite for 50's and 60's fashion shoots.
10
Glidehouse – Novato, California
The newest home to make the cut, this eco-friendly prefab wowed critics in its 2004 debut. The Sierra Club even named architect Michelle Kaufmann "the Henry Ford of green homes."