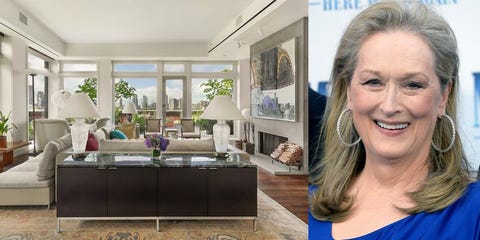 Douglas Elliman Real Estate/Getty Images
Meryl Streep is far from just a movie star, she's an icon. And if I had the power to give her an award today, I'd definitely bless her with most breathtaking apartment (and not just for the views). Lucky for us, this New York City penthouse in TriBeCa is on the market. Not so lucky for us? It's $24.6 million.
Listed by and of , the apartment overlooks the Hudson River and is surrounded on three sides by a 10-foot-wide terrace. With approximately 3,944 square feet of space, it consists of 4 bedrooms and 4.5 baths, so she was never short on space. Seriously, though, it's straight out of a magazine. You have to see it to believe it:
1
The natural light in this place is outrageous.
2
A mod fireplace is the focal point of the open concept.
The only thing more eye-catching than that sleek fireplace is the artwork above it.
3
Please, check out this chandelier in the dining area. It's incredible.
The simplicity of the dining table, chairs, and rug is the perfect balance for the wall art, vases, and chandelier.
4
The combination of wood and white cabinets is really speaking to me.
5
Even the TV room is bright and airy.
All of the plants outside and in make this space feel even more open. (The only downside to all that brightness may be glare on the TV, but hey, that's what window treatments are for.)
6
I don't think I could ever get out of bed in the morning.
7
This clawfoot tub is calling my name.
8
When your closet's this massive, seating is necessary.
I think my shoes could fit here. I'd make it work.
9
Talk about an escape from the concrete jungle.
You almost can't tell you're in NYC.