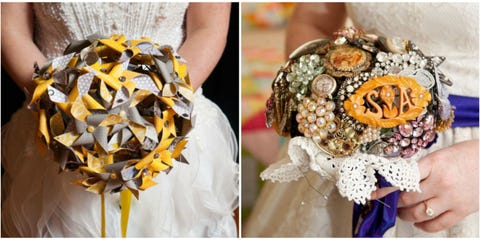 While there's no denying the beauty of fresh-cut flowers, if you want to your floral arrangement to last longer than a week — even a lifetime — you have to get a little more creative. Whether you're about to walk down the aisle, or just crave a pretty bouquet on your office desk, draw some inspiration from these floral alternatives.
Who knew that the contents of your kids' toy box could look so chic? Just make sure you this one.
$210,
Paper flower artist Livia Cetti has made impressively realistic arrangements for Anthropologie, Kate Spade, Bergdorf Goodman, and even the White House. Take cues from her book to make similar creations of your own.
Keep things light with a featherweight arrangement featuring all-white plumes.
$70,
A button bouquet proves whimsy can come straight from a sewing kit.
$72,
Floral designer Torryne Choate used pheasant feathers, tigerwood twigs, and an antler for a display that will last all winter long.
These aren't your grandmother's scented pinecones. Fresh sprigs of boxwood keep the craft-store staple from feeling stale.
Fake the real thing with egg cartons and cotton balls. Arrange branches alone or mix them with wildflowers or wheat for a seasonal display.
Now this is a cactus no one can kill: A set of stones with a coat of vibrant green paint.
Recycle old newspapers or damaged books by preserving the pages as petals.
$24,
Beachy brides and ocean lovers will agree that seashells can be just as beautiful as traditional blooms.
$64,
For a bouquet that's just as pleasant to touch as it is to look at, gather some willow branches.
It doesn't have to be a windy day to enjoy this playful arrangement. Dozens of pinwheels look cheerful indoors or out.
$60,
A bundle of wheat can look unexpectedly elegant when dolled up with a satin ribbon.
$11,
There's no thorns on these blooms – perfect for an adorable flower girl.
$46,
Superhero lovers, rejoice! The exploits of your favorite comic book heroes can be put on display in this clever craft.
$130,