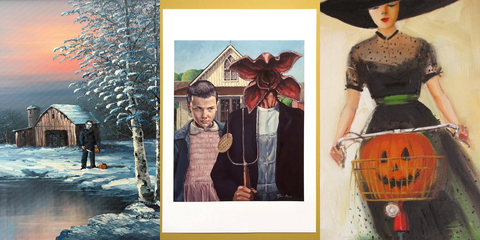 When you think about decorating for Halloween, you probably think of all the obvious things: faux cobwebs, bats, headstones, jack-o-lanterns ... you catch my drift. But if you're not thinking about hanging Halloween-themed art, you're totally missing out. There are a wealth of original and pop culture-inspired Halloween paintings (and art prints of paintings) out there, especially on Etsy, just waiting to be hung up on your wall to help you get into the Halloween spirit.
1
Dripping Skeleton Original Oil Painting
If you don't have at least one skeleton painting, is it even Halloween?
2
"Witchycle" Original Painting Print
If a stylish take on a Halloween painting is what you wish for, a stylish Halloween painting is what you shall get.
3
Michael Myers Parody Painting Print
It's not Halloween without the actual villain from Halloween, am I right?
4
"Stranger Things" Parody Painting Print
This "American Gothic" parody featuring Eleven and the Demogorgon is everything.
5
"Danielle And The Devil" Art Print
Nothing to see here, just a well-dressed witch and her devilishly handsome dog.
6
"Hocus Pocus" Acrylic Canvas Painting
If your favorite Halloween movie is Hocus Pocus, you pretty much need this.
7
Haunted Room Original Painting Print
I don't know who this ghost is, but can she decorate my room, too?
8
Vampire Pop Art Painting
Go for something a little edgier with this pop art painting of a thirsty vampire.
9
"The Dogs of Halloween" Art Print.
The dog days are definitely not over.
10
Haunted Mansion Painting Print
And of course, Halloween would be nothing without a haunted house.