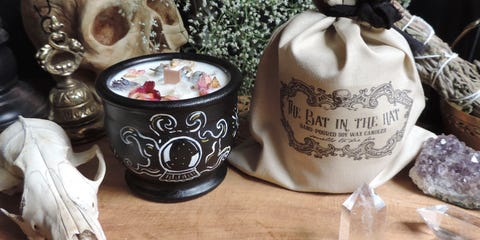 Halloween might not be the first holiday you associate with gift giving, but there are plenty of reasons to surprise someone with a little something-something during this hauntingly fun time of year. Maybe your best friend is OBSESSED with the holiday, maybe you're throwing a party and want to give out little gifts and party favors, or maybe you're going to one and want to bring a hostess gift. In any case, these finds are scary good. No tricks, just treats, for everyone on your list.
1
Skeleton Initial Bookmark
Any avid reader-slash-Halloween lover will appreciate this skeleton bookmark that's personalized with their initial.
2
Witch's Cauldron Bath Bomb
Give this to someone who loves conjuring up a little relaxation time.
Couldn't you just die over how cute these little ghost candles are?
4
Personalized Halloween Cracker Box
Fill these little cracker boxes with candy or tiny knickknacks to give out as party favors.
5
Scented Cauldron Soy Candle
This stunning cauldron candle has a black linen and amber scent and is filled with real stones and flowers.
6
Chocolate Skull Lollipop
Nothing says Halloween like some fancy chocolate skull lollipops, am I right?
7
'Drink Up Witches' Wine Gift Bag
If you're gifting wine, give it a Halloween upgrade with this festive drawstring bag.
8
Pink Skeleton Hand Soap Bar
Everyone loves fancy soap, and this beautiful pink soap bar comes complete with a realistic skeleton hand.
9
Hand-Stamped "Magic Potion" Coffee Spoon
This hand-stamped coffee spoon will make every coffee drinker's morning a little bit more magical.
These tiny, hand-made wooden ghost stud earrings are too cute to resist.
11
Jack-o-Lantern Succulent Planter
Add a little succulent to this 3D-printed jack-o-lantern planter, and it makes an adorable gift.
12
Chocolate Candy Corn Mason Jar Cookie Mix
This mason jar cookie mix is the perfect festive gift for anyone who loves to bake.
13
Coffin Quiz Trivia Game
This adorably packaged Halloween trivia card set is a perfect little gift for families who love game night.
These vampire soaps won't suck your blood, but they will leave your hands feeling moisturized.
15
Skull Rocks Cocktail Glass
The perfect, on-season gift for any cocktail connoisseur.
16
Rustic Candy Corn Mason Jar Vase
Flowers are nice, but pair them with a candy corn-inspired mason jar vase and you'll have a Halloween hit.
17
Apothecary Wine Labels
Don't just give the gift of wine, stick one of these apothecary labels on the bottle and make it much more Halloween-y.
18
Halloween Treats Gift Basket
A gift basket full of Halloween-themed treats is always a good idea.
19
Pewter-Glazed Cauldron Mug
Who wouldn't want to sip their favorite tea or coffee from a totally bewitching mug like this?
20
Solid Chocolate Gothic Brooches
These brooches are so detailed, people won't even realize they're chocolate — but that just makes them cooler.
Turn up the heat with this hot sauce that comes in a very Halloween-friendly skull jar.
22
"Lemon Death Drop" Bubble Bath
Bubble bath with a dark, spooky twist but a bright, lemon-y scent? Almost too good to be real.
23
Horror Shot Glasses Set
Classic horror movie buffs will love these handmade shot glasses.
24
Decorated Spider Cookies
Cookies this cute shouldn't even be allowed to be eaten — but lucky for whoever you give these to, they are.
25
"Stranger Things" Soy Candle
For anyone who gets excited for Halloween mostly because it means the return of Stranger Things, go for this Eleven scented candle that smells like the Hawkins forest, eggos and maple syrup.