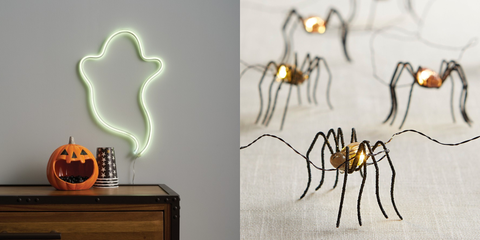 Whether you're throwing a Halloween party or not, it's always fun to make your home a little extra festive come the spookiest day of the year. Plus, it's always fun to welcome trick-or-treaters with a fun, decorative display. This year, you can totally make your house the most festive and stylish one on the block, thanks to a little help from these awesome Halloween lights. From shimmery skull string lights to big purple projection shows (and of course, some bats, ghosts, and jack-o-lanterns in between!), these lights are bound to give you some cool Halloween decorating ideas.
1
Jack-O-Lantern Fairy Lights
Who needs to carve a pumpkin when you can just hang these jack-o-lantern string lights?
2
Purple & Orange Projection Lights
Go full-on light show with these purple and orange projector lights.
These ghost lights are so cute, Casper's jealous.
4
Flashing Eyes Halloween Lights
Turn your bushes into a hideaway for the creatures of the night with these light-up flashing eyes.
5
Glimmer Spider String Lights
The only spiders you'll ever want in your home.
If you love the look of neon lights, this affordable, faux-neon ghost is a must-have.
7
Purple Bat String Lights
For when it feels like you've gone totally batty.
8
Metallic Jack-O-Lantern Pathway Lights
Light the way for trick-or-treaters with these colorful metallic pathway lights.
This crosses the line from spooky to into hauntingly adorable.
10
Glimmer Skull String Lights
Halloween just isn't the same without a little skeleton decor, and these sparkly skull lights have you covered.
And of course, if you don't have orange string lights, did you even decorate for Halloween?