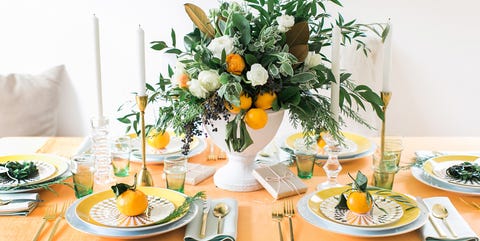 Deciding how to decorate for Thanksgiving is one thing, but deciding which colors to use in is a task in and of itself. You could opt for the standard brown, yellow, orange, and red, but c'mon—where's the fun in that? If you want to mix it up this year, try these gorgeous combos that integrate the classics alongside a few totally unexpected new hues.
Pair the typical Thanksgiving color (in a more vibrant shade) with white for a clean and colorful table. Then, accent with fresh greens. They'll pop even more against the bright palette.
See more at .

OK, so pink doesn't necessarily spring right to mind when you think of Thanksgiving. But when paired with gray and white, then accented with gold, it's seriously elegant. As long as your table looks good, no one will question it.
See more at .
This jewel-toned table incorporates burgundy, brass, and lots of fruit. Pro tip: This color looks gorg on top of a dark wood table.
All white is clean and classic, but it can also be super bland. Add in pops of deep purple and your table instantly becomes more exciting.
See more at .

Is there anything sexier than a black and gold combo? Not really.
See more at .

For a happy Thanksgiving spread that's energetic but still seasonally relevant, mix orange with pink. It'll feel even more rustic on a reclaimed wood table.
See more at .
Mix varying shades of gold and green together for a natural tablescape. The green is grounding, but gold feels celebratory.
See more at .
Mix white, cream, tans, and soft greens for a understated table that's insanely chic.
See more at .
We're obsessed with the mix of textures on this white and yellow table. The burlap runner and stick utensil holders add a natural feel, while yellow chargers create warmth.
See more at .
Oh, you fancy, huh? A gold runner, gold pinecones, gold votives, and gold pumpkins — basically, go gold or go home.
See more at .