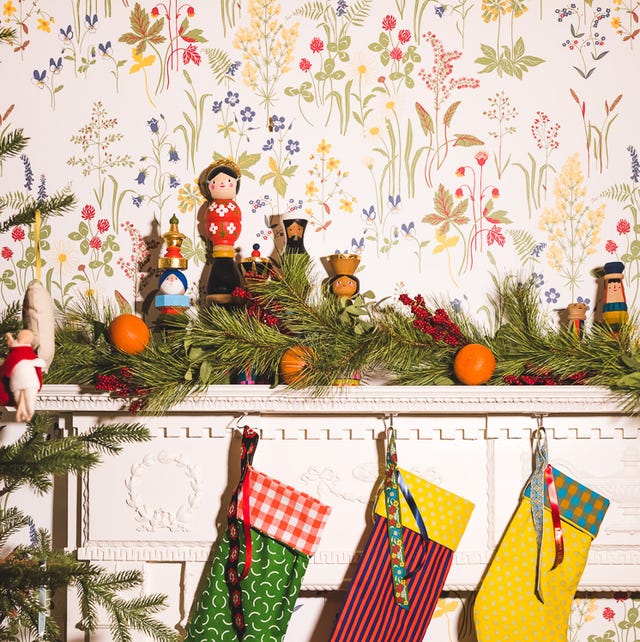 "Christmas to a child is the first terrible proof that to travel hopefully is better than to arrive," English comedian and actor Stephen Fry famously said. And that's thanks to all the fun holiday festivities and craft activities that lead up to the big day. So make the most of the anticipatory moments with some fun, easy Christmas crafts that'll put everyone in the holiday spirit. Plus, most of these projects double as stylish Christmas decorations or gifts, so you'll also be getting those tasks out of the way while you work on them. Ready, set, get cozy and start crafting.
1
Gingerbread House Advent Calendar
Upgrade your advent calendar tradition with this DIY gingerbread version from Sugar and Charm. The little wooden houses are surprisingly easy to make and they're the perfect thing to line the mantle with.
For something especially festive, considering DIYing some oversized felt Christmas lights, like these from Sugar & Cloth. Or use construction paper and cardboard if you have any of those materials lying around. If your door is painted a bright color, match some of the "lights" with it, but keep the others on-theme for Christmas.
Make your craft cocktails look even prettier by serving them on these DIY snowflake coasters. Made with white pipe cleaners, it doesn't get any easier than this. Learn how to make them from Sugar and Charm.
Grab some construction paper in fun, vibrant colors and then cut out some shapes. Then glue them together and hang them from your garland to give it a fresh, personal touch. To make it all match, tie a ribbon in a corresponding color around the end of the banister.
5
Tree-Shaped Advent Calendar
Here's another great DIY advent calendar brought to us by Sugar and Charm. You'll just need some plywood, small tin cans, and a hot glue gun (and then goodies, of course).
6
Paper Poinsettia Flowers
This is not a drill—these are flowers made out of actual paper but they're just as pretty as the real thing. Follow the steps from The House That Lars Built.
7
Temporary Tattoo Ornaments
Raise your hand if you have zero skills with a paintbrush. This is the holiday craft for you since you just need to be able to stick a temporary tattoo onto an ornament. See how it's done at The Crafted Life.
You really can use anything to make pretty Christmas decorations if you put your mind to it. This garland is made out of coffee filters. If you don't have any of those lying around, use tissue paper and make an afternoon of it. Get the tutorial from Country Living.
We're all about this minimalist, understated approach to holiday decor, like this Geometric wreath from Sugar & Cloth. Plus. minimalist crafts and DIY projects are inevitably easy.
These modern wreaths from Sugar and Charm are the perfect activity for a holiday party. Just set up the supplies on a craft table and print out the simple instructions.
11
Copper Christmas Trees
These are so pretty, you'll want to leave them up year-round. It really doesn't get easier than this, either. Get the tutorial at Lia Griffith.
Make everyone in the family their own Christmas stocking to use year after year. These easy DIY stockings from The House House Lars Built are upbeat and festive but also unique.
These will make your house smell like Christmas spirit if you could bottle it up. Plus, it's pretty. Learn how to make your own from Sugar and Charm.
14
Instax + Tinsel Wreath
Tinsel is all about having fun. This tinsel star wreath from The Crafted Life is easy to replicate—you just need to add your photos. Or you could put out a polaroid at a holiday party and have everyone add their own photos in the moment.
15
Origami Christmas Trees
This is the chicest origami has ever looked. And they're not overly complicated to make. Choose paper that matches the colors in your home so they blends in nicely when you put them on display. Get the tutorial at Sugar and Charm.
If you've got leftover tissue paper from all your gift wrapping, put it to good use. This is the perfect kid-friendly craft idea, too. Get the tutorial at Mod Podge Rocks.
17
Colorful Christmas Tree Lights
These strings lights would brighten up an entire room even if they are just made of paper. Playful, colorful, and no fire hazard whatsoever. And they're fun to make! Get the tutorial at Studio DIY.
Christmas tree ornaments are so much more special when they have sentimental value. Make your own marbled ornaments with this guide from Sugar and Charm.
19
Santa Hat Drink Stirrers
Your party guests will be obsessed with these cute little Santa hats. Plus, they'll make your drinks a lot more photogenic. See how it's done at Sugar & Cloth.
This garland from Lia Griffith ensures that you don't have to let holiday decor cramp your boho style. Who needs paper snowflakes when you can have paper feathers instead?