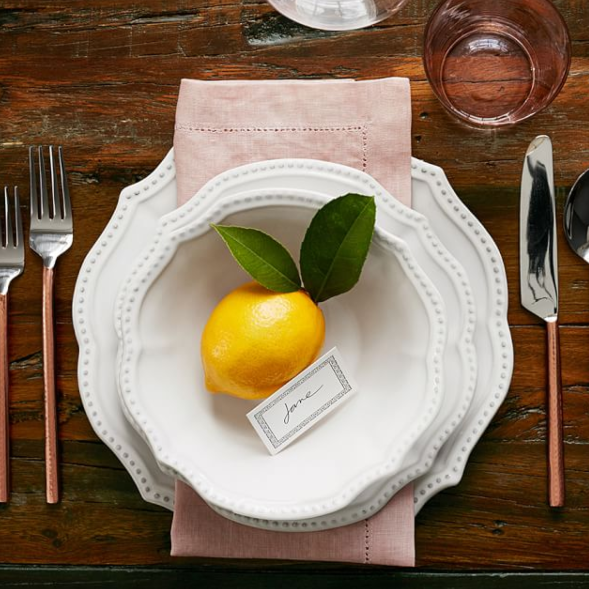 Pottery Barn/Bloomingdales
Before you can decide on your Thanksgiving table decor, it's probably a good idea to figure out what kind of dishes you want to use first. Maybe you're feeling festive and want dinnerware that's specifically for your holiday feast, or maybe you're looking for something with fall colors or motifs that can still work year-round. In any case, there's tons of dinnerware out there that's perfect for Thanksgiving and totally chic—seriously, no overwhelming patterns and colors here, just some supremely stylish options for your fall tablescape. Add a tablecloth (or runner!) and some other seasonal decor, and you'll be hosting a totally Instagram-worthy Thanksgiving in no time. All that's left to do is figure out what'll be on your menu!
1
12-Piece Sabin Striped Dinnerware Set
$39.92
For something that gives you subtle fall vibes but can still be used year-round, this striped black, white and amber dinnerware set is perfect.
2
Hushed Harvest Dinnerware
$7.99+
This simple botanical print can be used year-round too, but if you wish it were a little more on-the-nose festive, mix in these coordinating salad plates, which add a pumpkin motif to the design.
$14+
Go with a more autumnal color scheme that's not so in-your-face, like this stoneware set. Its reactive glaze fades from blush to rust to gray.
4
Coralina 4-Piece Dinnerware Set
Oscar De La Renta
williams-sonoma.com
$169
Love a bright tablescape? These orange and white Oscar De La Renta dishes will perk up your Thanksgiving table for sure, while still feeling theme-appropriate.
5
12-Piece Gold Brushstroke Dinnerware Service
$205
Go totally gilded with this hand-painted gold porcelain dinnerware set with service for four people, including dinner plates, salad plates, and bowls.
6
Casablanca 4-Piece Place Setting
Caskata
anthropologie.com
$115
No need for bold colors to spice up your table when you have an eye-catching, almost hypnotic pattern like in this stunning black and white set.
7
Drift Matte Yellow Dinnerware
$9.95+
Another versatile option that still gives some fall flavor: Yellow matte stoneware. Dinner plates, salad plates, and bowls are available at CB2.
8
"Chelsea Garden" Dinnerware
$72+
The intricate design on these Royal Crown Derby dinnerware pieces is perfect for even the most upscale Thanksgiving table.
9
Savannah Wheat Dinnerware
$7.99+
Want a more festive motif but don't want to go full turkey? This otherwise simple white dinnerware features illustrations of wheat instead.
10
Versace Byzantine Dreams Porcelain Dinnerware
$82+
The detail on this Versace dinnerware is exactly what you need for an elegant holiday dinner, and the pop of pink gives it a fun, unique edge over the usual Thanksgiving fare.
11
Leila 16-Piece Dinnerware Set
$180
Keep it simple for Thanksgiving and the rest of the holiday season (and really, just about any hosting occasion) with this white dinnerware—the scalloped shape and stitched rim give it some extra flair.
12
Modern Turkey Salad Plate Set
$29.99
If a turkey motif is what you want, a turkey motif is what you shall have. This fun mod take on the turkey design is anything but boring.
13
Terranea 12-Piece Dining Set
$89
This glazed terracotta dinnerware set comes with four bowls, dessert plates, and dinner plates, and will add a subtle rustic edge to your table.
$35+
The festive feather print on this dinnerware set is like the upscale version of a turkey motif, without any actual turkeys. Plus, it adds a little color to your table, and it's sure to make your guests ask where you got it.
15
Addison Grey 4-Piece Gold Rim Place Setting
$49.95
Who needs autumnal colors when you can go with an all-season set like this gray dinnerware which adds a thin gold rim. It's special enough that it can easily be dressed up for the holidays, but not so fancy that you can't use it casually, too.