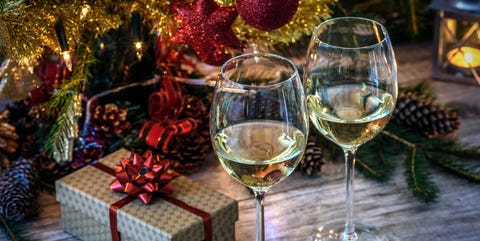 Andrzej Siwiec / EyeEm
Getty Images
What is a celebration without wine? Definitely not one we're going to. No matter what you're serving for Christmas, we've got you covered with exactly which wines you need to pair with it. From charcuterie, to meats and poultry, to sweets—if you're hosting Christmas this year, make sure you stock your bar right.
There's no such thing as too early to start the holiday festivities. Kick off your Christmas brunch with mimosas made with Prosecco. "The Italian sparkling wine [has a] floral and frothy feel," says Tyson Koster, Director of Wine Strategy for .
$15, wineinsiders.com
2
With Charcuterie: Lambrusco
"The northern Italian red sparkling, slightly off dry wine is delicious, novel, very reasonably priced, and fits in perfectly at the beginning or end of the meal," says Lex Kiefhaber, Director, Wine & Brand of . Pro tip: It's amazing with Parmesan and prosciutto.
$19, wine.com
3
With Appetizers: Sauvignon Blanc
You need a dry white wine with acidity to balance out creamy starters, or anything flavored with herbs. "Pour this crisp classic with starters like spinach artichoke dip, baked brie with fruit compote, or deviled eggs with pickled peppers," says Koster.
$15, wineinsiders.com
4
If You're Serving Turkey: Pinot Noir
Pinot Noir already has a flavor profile of cranberries, cherries, and spice, so it's a must-have on your holiday table. "This lovely light-bodied wine is the red that pairs with poultry, so serve it with turkey and sweet potatoes and you might even be able to skip the cranberry sauce," Koster says.

$15, wineinsiders.com
5
If You're Serving Beef: Malbec
You can't go wrong with a Malbec if beef is on the menu. According to Kiefhaber, "its bright, ripe fruit profile and silky-smooth texture" make the two a perfect pairing.
$19, wine.com
6
If You're Serving Hearty Meats: Aglianico
You need something rich, rustic, and full-bodied to accompany hearty meat dishes. If you're serving brisket, duck, stew, or a roast, reach for this Italian red. "It's a touch spicy and a touch smoky with lots of dark fruit flavors," Koster says.
$12, wineinsiders.com
7
If You're Serving Lamb: French Malbec
There's a time and a place for Argentinian Malbec, but if you're serving rustic fare, like lamb or beef bourguignon, reach for a Malbec from the French region of Cahors. "Malbec from Cahors is a bit more serious than its Argentinian cousin—flavors veer towards dark fruit like blackberry and currents, backed up by notes of tobacco and coffee with baking spices," says Kiefhaber.
$18, wine.com
"Moscato is a fruity, floral, and decadently off-dry white wine that fits a surprising mix of holiday occasions," says Koster. Add it to your party punch, or serve it up with your dessert course. It goes best with pies and fruit tarts.
$10, wineinsiders.com
Think rosé is only a summer wine? Think again. "This pink favorite is your secret weapon with leftovers," says Koster. Shocking but true, it goes perfectly with turkey sandwiches.

$15, wineinsiders.com