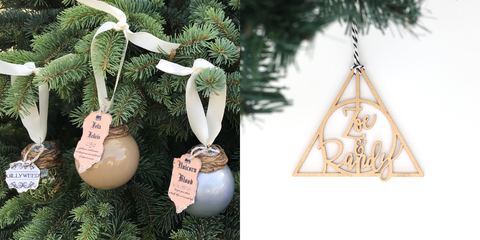 It doesn't matter if you're a Slytherin or a Hufflepuff—if you're a Harry Potter fan, you deserve holiday decorations that show off your love of the wizarding world. Whether you add one Hogwarts-approved ornament to your tree for a subtle hint of magic or go for a Christmas tree with a full-on, all-over Harry Potter theme, these are the best ornaments you can find this holiday season, from house crests to potion bottle baubles and everything in between. Be careful—they're so cool, they might just cast a spell on you.
1
Hogwarts House Ornament Set
This set of five ornaments includes the Hogwarts shield and all four house crests, so you can represent your wizard alma mater proudly.
2
Harry Potter Wooden Ornament Trio
Keep things simple and natural with this set of three wooden ornaments—each one is embossed with a Harry Potter symbol to represent platform 9 and 3/4, the Deathly Hallows, and Harry's glasses and scar.
3
Harry Potter Literary Baubles
These glass baubles come in a set of four and are decorated with different quotes from the books and filled with stars, recycled book curls, and ribbon curls.
4
Plush Harry Potter Ornament
Choose between Harry, Hermione, Ron, or Draco (or get all four) in plush form with these adorable ornaments.
5
Custom Deathly Hallows Ornament
If you want a personalized option, you can always get your name (or a phrase of your choosing) put in the Deathly Hallows symbol.
These little potion-bottle baubles come in a set of five, including Gillyweed, Amortentia, Polyjuice, Felix Felicis, and of course, unicorn blood.
These little winged key ornaments are way more stationary than the flying keys in Harry Potter, but they'll do the trick.
8
Hogwarts Express Ornament
All aboard the Hogwarts Express—and you don't even need to visit platform 9 and 3/4 first to get this one.
9
DIY Owl Post Ornament Pattern
If you're feeling crafty, snag the pattern for this super-cute knit ornament of Hedwig carrying an important letter.
10
Harry Potter Book Cover Ornament
For something that shows off your love of Harry Potter a little more subtly, try one of these paper ornaments made from segments of the books' covers.