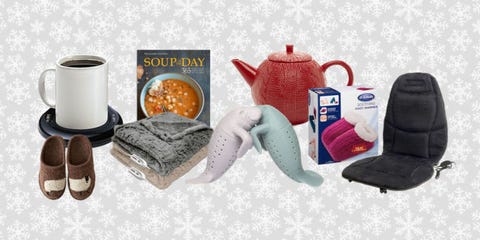 There's one in every group: that person who is always perpetually cold. It doesn't matter if it's the middle of July. If the heat is blasting. If you're wrapped under layers upon layers of clothing. We get it. The struggle is, in fact, real. To help, we present our list of gifts that all you cold people out there will truly appreciate. (No need to thank us. We're happy to help!)
1
This faux fur heated throw blanket.
Wrapping a warm blanket around your entire body just got even cozier.
($70, bedbathandbeyond.com)
2
These warm and fuzzy socks.
You'll want to wear this cozy pair under your favorite boots all winter long.
($8, target.com)

3
A soothing foot warmer.
Goodbye, cold toes.
($20, Walmart)
4
This teapot that looks like it's wearing a sweater.
How could a cup of tea possibly be cozier? When served from this sweater-like teapot.
($40, yedihouseware.com)
A tiny little heater you can take with you wherever you go.
($25, amazon.com)
6
This cuddly cow body pillow.
Snuggle up with your favorite farm animal and prepare to sleep better than ever.
($80, plowhearth.com)
7
Peppermint hot cocoa in a jar.
Gift this tasty drink mix to the friend who you never see without a warm beverage in hand.
($10, etsy.com)
8
This s'mores pillow warmer.
Place a pillow inside this cover and it will be ready for cuddling in no time.
($35, smokonow.com)
9
This crocheted mermaid tail blanket.
Never worry about your feet sticking out again.
($110, cassjamesdesign.etsy.com)
10
A scarf that doubles as a throw blanket.
As if a wool scarf wasn't cozy enough, this one doubles as a small blanket you can wrap around yourself on those extra-cold days.
($78, shopterrain.com)
11
These woolly sheep slippers.
Nothing says "cozy" better than farm animal-themed slippers.
($88, shopterrain.com)
Whoever thought of a scarf with built-in pockets is a total genius.
($88, anthropologie.com)
13
This soft velour heated seat cushion
Target's car cushion, which plugs into your car lighter, will heat up your bottom in no time.
($34.99, target.com)
14
These DIY handwarmers.
Ward off the cold with these easy-to-make, colorful handwarmers.
Get the tutorial at Rae Ann Kelly.

15
These mercury moonglow candles.
With scents of mulled wine, heirloom pumpkin, and sweet vanilla cinnamon, these candles are all but guaranteed to make you feel warmer just by looking at them.
(starts at $38, anthropologie.com)
16
These adorable tea infuser manatees.
Drinking tea has never been this adorable.
($14 for two, amazon.com)
17
A trusty soup cookbook.
When the weather outside gets frightful, a warm bowl of soup is basically a necessity. This cookbook has a recipe for every day of the year—just in case you find yourself chilly during the warmer months, too.
($35, williams-sonoma.com)
Keep your coffee or tea at the temperature you'd like—which we're guessing is hot and steamy—with this mug warmer.
($10, bedbathandbeyond.com)
19
An oh-so-honest cross stitch.
When in doubt, a cross stitch that tells guests exactly how you're feeling is always a good idea.
($20, etsy.com)
20
This cozy throw that has pom-poms.
The hardest part will be choosing which color.
($148, anthropologie.com)