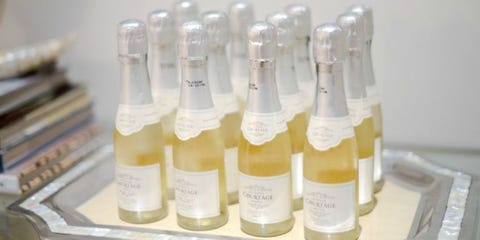 We've seen canned rosé and dreamt-up champagne office coolers, but the best new way to drink bubbly is from fun-size bottles. The portable, pre-portioned mini bottles serve exactly one glass, making them ideal for toasting to the new year, toting along to picnics, gifting as favors, or just casually sipping from the couch. They're perfectly petite and party-ready — just add some cute patterned straws and start popping those tiny corks.
These adorable baby blue bottles of Italian bubbly typically go for $6, which means you can totally stock up and stay under budget.
Hailing from Spain, this cava ($3 to $4) is completely party-ready. Its sleek, black matte bottles look luxurious — as seen on some of the best bridal blogs — so they feel fancy without racking up a hefty bill.
Chandon is known for its adorable packaging so we wouldn't expect anything less from the brand's split size of sparkling rosé. Carry these pale pink and deep green beauties around and everyone will envy your bubbly game.
With a vintage-looking label and wallet-friendly price tag (about $6), this little wonder should be your go-to when you want to impress a crowd — like when The Lovely Bits handed them out at an engagement party.
At about $15 each, these bright and bold bottles are more of a splurge item. But when you're celebrating something special, who's counting?
We fell in love with the look of these frosted bottles paired with shiny, silver foil tops when we first saw them on Be Well with Arielle. At $8 each, this brand settles into the comfortable spot between dirt-cheap and bougie.
Grab a curly straw for these pretty-in-pink numbers, which have been featured on entertaining and design sites with glittering gold-ribbon stirring sticks. The best part is that they only cost about $4 each.
Another more luxurious option, the mini Moët Imperial (about $15 a piece) is refined yet fun. Pass them out among your closest friends and toast to how classy you are.
Though these super affordable babies ($3 each) only contain 5% alcohol, that only makes them more ideal for session-style drinking. Plus, they're imported from Italy and make up for any shortcomings with a jazzy, gold-and-green presentation.