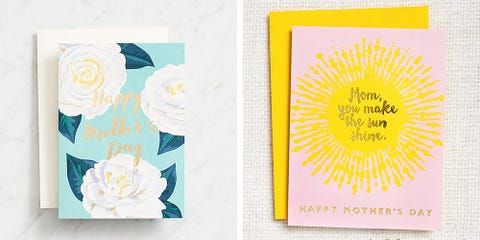 Remind mom what a thoughtful adult you've become with one of these sweet (and funny!) Mother's Day cards. There are even options for your stepmom, grandma, and all the new moms in your life—including those who are expecting. They're so good, they'll want to hold onto them forever.
1
All Purpose Glue Mother's Day Card
A cute reminder to your mom that she's the glue that always holds you together.
2
First Mother's Day Card
ParticularDesigns1
etsy.com
$5.03
This personalized card is perfect for moms celebrating their first Mother's Day with their baby.
3
Camellia Mother's Day Card
You can't go wrong with a pretty floral print, like these camellia blossoms.
4
Mother's Day Superhero Card
Because your mom is basically Wonder Woman, after all.
5
Adele Mother's Day Card
OriginalByPaige
etsy.com
$3.69
If you're looking to make her laugh, go for this Adele-themed card.
penandpaint
etsy.com
$4.50
A sweet but simple card for your stepmom—because she deserves some Mother's Day recognition, too.
7
Knitted Mother's Day Card
OWhatAFeeling
etsy.com
$4.06
If your knitting skills aren't exactly top-notch, this festive, yarn-inspired card is just as cozy.
8
"I Get it Now" Mother's Day Card
OrdinaryPressCompany
etsy.com
$4.28
This might be the prettiest way to get your mom to say "I told you so!"

9
Expecting Mother's Day Card
TheHiddenPearlStudio
etsy.com
$3.37
For the mom-to-be who's celebrating Mother's Day pregnant, this adorable card is the perfect choice.
10
"Home is Where Mom Is" Card
PaperRavenCo
etsy.com
$4.50
If you live far away, she'll appreciate the sentiment behind this sweet card.
11
Plantable Mother's Day Card
MGFancyFont
etsy.com
$5.95
For the eco-friendly mom who loves to garden: This simple Mother's Day card is made with seed paper, meaning it's plantable. Choose between a mix of wildflowers or herbs.
12
Sunshine Mother's Day Card
This Mother's Day, remind your mom that she's the light of your life.
13
Freddie Mercury Mother's Day Cards
SketchyPrintCo
etsy.com
$10.80
She'll get a kick out of this card, featuring Freddie Mercury and the lyrics to "Bohemian Rhapsody."
14
Mom Genes Mother's Day Card
For the mom with good genes and even better jeans.
15
Grandma Hugs Mother's Day Card
Don't forget grandma! She'll love this sweet, simple card that shows just how much she means to you.