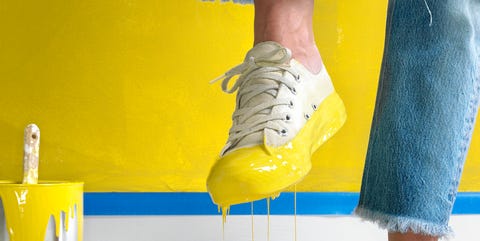 Stephen Swintek
Getty Images
I don't know about you, but sometimes when I want to DIY something, I get a little overambitious and prematurely cocky. Like "oh, of course I can do this, it's going to be great," and then it winds up looking like those Pinterest fail memes you can find all over the web.
Truth is, those memes are all too relatable. There's something oddly soothing about realizing I'm not the only one who struggles when it comes to getting crafty, regardless of how easy others make it look. So, the next time you're struggling hard to give your IKEA furniture a makeover or repair your bathroom sink, remember you're not alone — and you're definitely not failing as hard as some other people.
Members of the subreddit DIWHY have submitted some seriously hilarious projects that'll instantly make you feel better when you don't (or can't) do it yourself. Seriously, why would these even be a good idea?!
1
When you really want a double vanity, but you still have one sink.
I can see where there was confusion.
2
When it's hot and you need a cold beer shower.
But why settle for one when you could have both?
3
When you need extra seating for guests.
I give to you ... part-of-a-car-seat.
4
When you really want an open concept, but you live in your parents' house.
5
When you're obsessed with mason jars and won't let anyone forget it.
6
When you need a new lock, but would rather buy extra Cheetos.
Buy the Cheetos. They're so much more worth it.
7
When you have plans, but there's also a hole in your house.