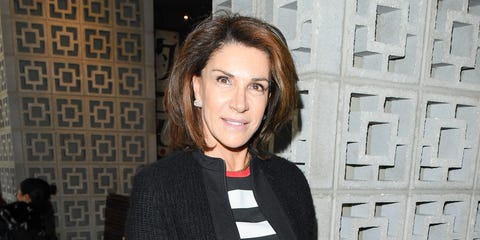 You know Hilary Farr as the straight-shooting host of Love It Or List It (AKA the one who makes over people's homes to help them fall in love with their space all over again), but if you think the designer is just a series of one-liners and smart decorating tips, you don't know Farr. The HGTV host seems to compress a dozen lives into her day-to-day existence, including a stint alongside Tim Curry in Rocky Horror Picture Show. Before tonight's new episode of Love It Or List It airs — at 9 p.m. EST, btw — read up. You'll never look at Farr the same way again.
1
She Dreamed Of Doing Ballet, Not Design.
"I grew up wanting to be a ballet dancer," Farr told Extra in 2016. The Toronto-born designer attended the Royal Ballet School in London, but at 11, she went through a growth spurt that made her shift gears and focus on theater instead.
3
She Doesn't Believe Beige Is A Color.
After a stint in theater and film acting, Farr got into interior design. (It's reported that helping her mom makeover her childhood home sparked her love of decorating, actually.) Since then, she's honed her style while helming her company, Hilary Farr Design, and starring in Love It Or List It.
With years of experience has come some strong opinions, like her thoughts on that safest-of-safe shades to paint your walls, beige: "It's not a color. There's a difference between being drawn to earth tones — which are neutrals — and beige," she told The Detroit News in 2015. "Every single color has a base to it. You can have a taupe that has a green undertone, a taupe that has a gray undertone."
4
She Was The First Designer In Toronto To Stage Homes.
Knowing that people don't simply buy a home based on its price or number of bedrooms, Farr zeroed in on the thing that many of her competitors in Canada were overlooking: possibility. "You have to figure out a way to get an emotional impact" out of the space, Farr said during a conference. That means styling the furniture and accessories in each room in a way that people see the potential of the home — and push them to put down an offer, ASAP.
6
She's Lived All Over The World.
Farr rose to fame in her native Canada, but she's also lived in England, New York, California, and Australia. These days, she divides her time between her New York and Toronto offices — where she runs Hilary Farr Design — and Raleigh, NC, where Love It Or List It has been filming its latest episodes.
8
Farr Was Married — But Not To Her Co-Star!
One of the most-Googled questions about Farr is whether she's married to or dating her Love It Or List It co-star, David Visentin. She was previously married to Gordon Farr, but the two have been divorced for years. Visentin is married to Krista Visentin, a real estate agent, Closer reported.