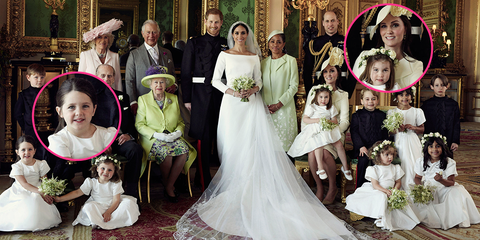 1
The photos were taken in the same room as Prince Harry's christening in 1984.
Windsor Castle's Green Drawing Room is near and dear to Prince Harry's heart. Back in 1984, a young Harry was passed around from one royal relative to another following his christening. The parlor, designed by George IV, was restored in 1992 after the devastating fire at Windsor Castle. Since then, the room has been the backdrop for a number of occasions, including the Queen's Diamond Jubilee portrait.
2
There's significance behind where everyone's standing.
It's customary in royal wedding family portraits for the bride's family to be on one side and the groom's family on the other — but this was an unique circumstance. Per tradition, Queen Elizabeth and Prince Philip are sitting in front of the Prince of Wales and Duchess of Cornwall. Since Meghan's mom was the only person to attend, the Duke and Duchess of Cambridge rounded out the "bride's side." The decision regarding where people stand is ultimately up to the photographer, former royal editor for The Sun and Prince Harry biographer Duncan Larcombe told BAZAAR.com.
3
And there's a reason why Kate is sitting.
1. Kate (and Charlotte!) balanced out the photo by sitting opposite to the Queen and 2. She just had a baby. Let the woman sit!
4
One bridesmaid is missing her bouquet...
Um, what happened to Florence van Cutsem's bouquet? Turns out, one of the bridesmaids (Ivy Mulroney) didn't have a bouquet of her own since it was her responsibility to hold Meghan's bouquet during the ceremony. When it came time for photos, they were still short one bouquet — and Florence went without. TBH she looks totally happy sans flowers.
5
... but she shared with another bridesmaid.
But fret not: For the larger family photo, Ivy shared her bouquet with Florence. Their parents would be so proud!
6
Still, one bridesmaid appeared to be missing her flower crown.
But she technically wasn't, because unlike the other bridesmaids, Ivy wore her hair in a simple half-up half-down style. She had flowers in the back of her hair instead of a flower crown like the other girls.
7
Prince Harry once sat on the same couch with his mom.
Princess Diana sat on the same green and gold couch with her family for Prince Harry's christening portraits in 1984. See? His mom was everywhere on his big day.
From: Good Housekeeping US