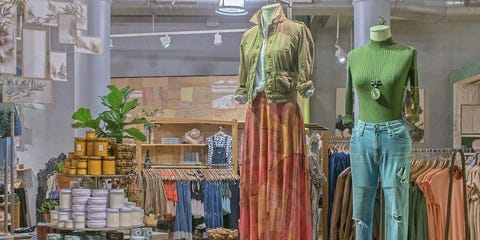 You know how every time you walk into Anthropologie it smells really damn amazing? Like, so good that you never want to leave? What if I told you your house can smell exactly like that? It's true! Despite what you might think, that special aroma isn't there by magic. And it's not some secret Febreze scent made exclusively for Anthro stores, either. It's the candles.
I know what you're thinking: "This is fake news, everyone knows Anthro sells amazing candles that smell like heaven in a jar." I get it, that part is pretty obvious. But there's something you don't know: The key to creating that enchanting scent isn't buying one candle at Anthropologie and lighting it in your house. It's buying a selection of them and lighting a different one in every room. You get a new wave of fragrance as you walk around the house, so your nose never gets used to the smell and ignores it.
Yup, that's it! That's the stupid-easy secret. I know this because I worked at Anthropologie in college, and on morning shifts when we opened the store, we lit one candle in every room. The result was a blend that wraps you up like a warm hug from Taylor Swift. So, which candles do you need to grab for your home? Allow me.
$28
First things first, you must get a Capri Blue candle. This is one of Anthropologie's bestsellers. You can't go wrong with any of the scents, but Aloha Orchid is a personal fave.
Voluspa Cut Glass Jar Candle
$28
When candles are burning at the shop, there will most definitely be a Voluspa lit at all times. Again, you can go with whichever scent you like best, but from my Anthro days, I have to recommend Baltic Amber, Mokara, Goji Tarocco Orange, and Santiago Huckleberry.
Voluspa Limited Edition Japonica Candle Tin
$18
Guess what? One Voluspa simply isn't enough. That's fine though, because I can guarantee you'll have trouble choosing between two scents anyway. This three wick tin version is a must-have.
$18
WARNING: If you put this candle in your kitchen, you'll be hungry all the time. Actually, if you put it anywhere in your house this will happen. But it's worth it. Every Boulangerie scent smells like dessert, and Angel Food is one of the best. This is the one Anthropologie candle I always gift, especially in the Whipped Cream & Pear scent.
Capri Blue Iridescent Jar Candle
$30
Okay, I saved the best for last. Remember how one Voluspa wasn't enough? Neither is one Capri Blue candle. You might love Red Volcano and Aloha Orchid, but whatever you do, don't sleep on Blue Volcano. This candle is an Anthropologie staple. And while you can get it in the regular blue jar, this silver iridescent jar is really pretty and will get all the compliments.