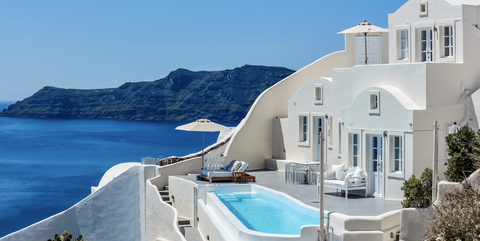 You might think of Airbnb as the budget-friendly option when traveling, but their recent acquisition of Luxury Retreats is bringing the company into the high-end market, and some of the properties they'll now have are seriously insane. Whether you actually need a villa in Provence or just want a serious dose of wanderlust + decor envy in one, check out these luxury retreats that'll soon be available to rent on Airbnb. Warning: You cannot unsee this amazingness.
Relax in one of the three salons, swim in the indoor and outdoor pools, eat al fresco on the terrace every night, and obviously make use of the private mooring and helicopter pad. Oh, and become BFFs with George and Amal by the end of summer. From $12,633 - $29,150/night.
See The Listing
Yes, you can rent Richard Branson's island (complete with beaches, pools, 17 bedrooms, chefs, and more), but it will cost you as much per night as a down payment on a house. From $80,000/night.
See The Listing
3
Manoir d'Avignon in Provence
Your French country dreams are about to come true. Cook your market finds in the gourmet chef's kitchen, sip wine in one of the lush gardens, or play tennis on the grass courts. And of course, fawn over the exquisite decor (exposed wood beams! blue and white everything!) the whole time. From $7,981 - $10,640/night.
See The Listing
4
Villa Contenta in Malibu
We'll be California dreamin' forever thanks to this stunning villa complete with an infinity edge pool, greenhouse, tennis court, croquet lawn, billiards room, wine cellar, and, of course, a screening room. Because LA. From $15,000 - $15,000/night
See The Listing
5
The Kahana House in Maui
This Hawaiian retreat has plenty of outdoor living areas, a lanai, and insanely gorgeous custom woodwork inside. Not to mention, it's perfectly situated for sunset views. From $4,000 - $8,000/night
See The Listing
6
Cliff Top Residence in Thailand
If the six-bedroom, cliff top, glass-walled villa wasn't enough on its own, it also comes with a private car and a private chef. For an additional cost, you can also rent a helicopter and yacht. From $7,981 - $10,640/night.
See the Listing
7
Borgo Santo Pietro in Tuscany
Imagine coming home to this after wine tasting in in the Tuscan countryside all day. Never. Going. Home. From $37,835 - $37,835/night.
See The Listing
8
Canaves Villa in Santorini
If you can pull yourself away from this view, you can enjoy the all-white villa, stroll to the nearby village of Oia, or cook freshly-caught seafood in the chef's kitchen. From $4,147 - $8,175/night.
See The Listing
9
Dar El Sadaka in Marrakech
This whimsical retreat is set on 25 acres of private gardens in Marrakech. In addition to the running track, tennis courts, bocce court, and pool, you'll also find palm and olive groves, a home theatre, and a traditional hammam. From $4,035 - $4,629/night.
See The Listing
10
Phillip's Ridge in Jackson Hole
Whether you visit during ski season or want to enjoy summer hiking, biking, and fishing, you'll fall in love with the luxury log lodge. Not only is the decor TDF, but it also comes with a a massive two-sided stone fireplace, a movie theatre, and a bowling alley. From $9,286 - $14,286/night.
See The Listing