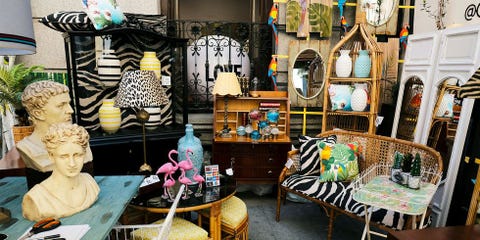 Who doesn't love a good flea market? A huge place you can wander and practically get lost in for hours, full of antiques, deals, and potentially magical finds — it doesn't get much better than that. Whether you're looking for the best flea market near where you live, or you have grand plans to travel across the country and shop beyond your state, these are the most popular flea markets in every state, based on data from Yelp and Facebook reviews. They're worth the road trip. Trust.
In Birmingham, Alabama, is a popular flea market known for having an eclectic mix of items — especially all things shabby chic. With close to 300 vendors, this is a big one you don't want to miss.
2
Alaska: Family Flea Market
Next time you're in Anchorage, Alaska, make sure you head to . You'll find everything from antiques and collectibles to tools — and even boats and motor homes, if you're in the market for one.
3
Arizona: The Lost Barrio
in Tucson, Arizona is a can't-miss flea market, especially if you're in the market for custom furniture, unique art, and rustic home furnishings.
5
California: Topanga Vintage Market
Every fourth Sunday in Woodland Hills, California, you can head to the and experience more than 180 artisans and vintage and antiques vendors, plus food trucks and live music.
6
Colorado: Lafayette Collectibles & Flea Market
If you find yourself in Lafayette, Colorado any time soon, head to — several Yelp reviewers describe it as huge and easy to get lost in, in the best kind of way.
7
Connecticut: Elephant's Trunk Flea Market
New Milford, Connecticut's welcomes all treasure hunters, antique collectors, farmers, foodies, and deal seekers — and with food trucks and more than 500 vendors, it has something for all of them.
8
Delaware: Spence's Bazaar
in Dover, Delaware is an indoor and outdoor flea market, farmer's market, and auction that's also known for its cuisine options — with a deli, a bakery, and Amish foods all available.
9
Florida: De'france Indoor Flea Market Antiques & Collectables
in Fort Walton Beach, Florida, is a family-owned flea market with more than 100 vendors selling everything from furniture to vintage handbags.
10
Georgia: The Madison Flea Market
Head to in Madison, Georgia for a huge selection of items from antiques to clothing — not to mention, music from a bluegrass pickup band (that you can join in and play with) on Saturday mornings.
11
Hawaii: Aloha Stadium Swap Meet & Marketplace
In Aiea, Hawaii, you'll find the , which features Hawaiian snacks and items (including handmade goods) from more than 400 local merchants.
in Post Falls, Idaho is home to a huge selection of goods, from antiques to jewelry and accessories and, as they describe it on their Facebook page, "you name it!"
13
Illinois: Elizabeth Grand Antique
Antiques lovers will find themselves content in Elizabeth, Illinois-based . With more than 28,000 square feet of antiques and collectibles, you're sure to explore happily for hours.
17
Kentucky: Fleur de Flea Vintage Urban Market
If you find yourself in Louisville, Kentucky, head to the — there, you'll find one-of-a-kind goods, vintage clothing, antiques, and more, along with plenty of local food trucks.
18
Louisiana: French Market
In New Orleans, Louisiana, the should be your go-to flea market (and farmer's market!) stop — it features merchants from all over the world, fresh produce and flowers, and a selection of restaurants and cafes.
19
Maine: The Willows Flea Market
in Mechanic Falls, Maine has a little something for everyone, with more than 250 vendors and artisans and three floors worth of antiques and collectibles to peruse.
21
Massachusetts: Wellfleet Drive-In Theatre Flea Market
If you like your flea markets with a side of drive-in movies (who wouldn't?), hit up the in Wellfleet, Massachusetts for a chance to peruse Cape Cod's biggest flea market and catch a flick.
25
Missouri: Camp Flea Antique Mall + Vintage Market
When in Ozark, Missouri, head to . It's a 26,000 square foot antique mall with more than 200 vendor booths, including tons of kitschy, retro goods.
29
New Hampshire: Hollis Flea Market
In Hollis, New Hampshire, you'll find the , a family-owned flea market with around 400 vendors — not to mention, with beer and wine available if you're craving a cold refreshment.
30
New Jersey: Columbus Farmer's Market & Flea Market
Columbus, New Jersey's is home to indoor shops, an outdoor flea market, flowers, produce, and an indoor Amish market, with plenty of antiques available.
35
Ohio: The Oakley Fancy Flea Market
On the second Saturday of every month in Cincinnati, Ohio, you can spend the day exploring , also known as the O.F.F., where you'll find tons of vendors along with spots for brunch and booze.
36
Oklahoma: Industry Flea
If you find yourself in downtown Oklahoma City, stop by — there, you'll find food trucks, live music, and plenty of vintage and handmade items.
37
Oregon: Waldport Flea Market
The in Waldport, Oregon is a popular spot for collectibles, antiques, art glass, and a wide selection of vintage clothing you won't want to miss.
39
Rhode Island: The Providence Flea
If you're near downtown Providence, Rhode Island, definitely check out on Sundays. You'll find plenty of vintage goods, crafts from artisans and makers, and more.
42
Tennessee: Nashville Flea Market
In Tennessee, the is the must-see market. It's gigantic, featuring anywhere from 800 to 1,200 vendors and dealers, and is considered one of the top ten flea markets in the country.
45
Vermont: Wilmington Antique & Flea Market
In Wilmington, Vermont, you'll find the , which stretches across 10 acres and featured vendors selling everything from art glass to antiques, plus flowers, produce, furniture, and more.
47
Washington: Fremont Sunday Street Market
On Sundays in Seattle, Washington, you can hit up the family-owned , which features up to 200 vendors selling a little bit of everything — perfect for all you treasure hunters out there.
48
West Virginia: Old Town Flea Market
in Berkeley Springs, West Virginia, home to tons of different booths selling high-quality items, according to Yelp reviewers.
50
Wyoming: Bart's Flea Market
And in Laramie, Wyoming, you'll find . Bart's is Wyoming's largest year-round indoor flea market, with everything from antiques and furniture to cute little knickknacks up for grabs.