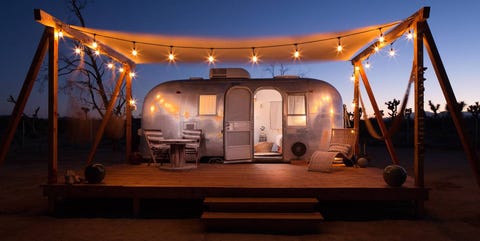 You could rent an apartment or a house, but if you want a truly memorable vacation, how about a castle? Or a treehouse? Or an actual covered wagon?! These are the most out-there Airbnbs you can rent right now, and while they aren't OTT luxury by any means, they'll place you straight in the heart and culture of the places you'll visit. Get ready for the most immersive vacation you've ever taken.
1
A Bubble Suite in Mexico
For a truly out-there experience, stay in one of these state-of-the-art bubbles, located in Valle de Guadalupe, Mexico's wine country. Each bubble contains a private bathroom, full-sized bed, and luxury amenities. Take in the vineyard views during the day, and star gaze straight from your bed at night.
$186/night

Live out your inner Eat, Pray, Love fantasy (no shame, we all have one) in an eco-friendly bamboo cottage in Bali. Located on the rice paddies, the woven, open-air house is made entirely out of bamboo and contains a mini loft, modern bathroom, and outdoor living area.
$65/night

This 4-bedroom, 5-bathroom house in Marrakech's Medina is an eclectic, colorful fusion of indoor/outdoor living. When you're not lounging around the indoor mosaic swimming pool, you'll probably be drinking Moroccan mint tea from the panoramic rooftop.
$233/night

4
A Sheep Wagon in Wyoming
You may not make it all the way to Oregon City, but you'll love the novelty of staying in a restored 1920's sheep wagon. It's got a full-sized bed, wood-burning stove, and access to the families 30,000 acre ranch.
$125/night

You'd never guess this straight-out-of-a-fairytale treehouse was located just minutes from downtown Atlanta. It's filled with antique furnishings, artifacts (like a cast of a Siberian Tiger paw!), a balcony, hammock, and string lights for days.
$375/night

Go totally off-the-grid in this solar-powered adobe dome near Big Bend National Park. The earthen structure features a kitchen and bed, and the modest solar energy system will power phones and lights. Spoiler: The sunsets and sunrises are on another level.
$88/night

This hauntingly beautiful rental, located in a story quarry in Bonnieux, was abandoned in 1930 and restored. In addition to the small kitchen, bedroom, bathroom, and lounge area, there's also an infinity-edge pool dug into the rock.
$175/night

8
An Airstream in Joshua Tree
We're swooning over this Moroccan meets mid-century modern airstream, complete with a hot tub, outdoor kitchen, outdoor shower, and fireplace. Go ahead. Live your best hipster life.
$140/night

9
A Windmill in Amsterdam
If you go to the Netherlands and don't see a windmill, did you really even go?! Do yourself one better and actually stay in a windmill. This romantic rental has three bedrooms, a kitchen, living room, a bathroom, and comes with bikes to ride around the countryside.
$409/night

Game of Thrones fans, listen up: Here's your chance to stay in a real-life castle from the late 1400s — and actually be able to afford it. The castle, located in Galway, has been fully restored with a living room, kitchen, bathroom, and bedroom. (And if you're playing Ed Sheeran's "Galway Girl" on repeat throughout your stay, we wouldn't judge.)
$175/night