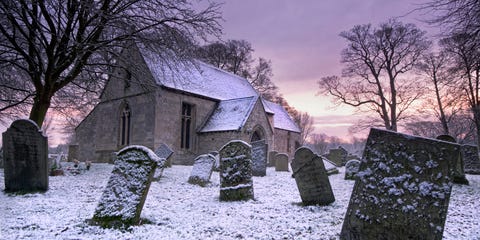 Should you find yourself browsing the Internet for a spooky experience this fall, but traveling to a haunted house—like the terrifying ones in New York City—just isn't authentic enough for you, it's high time to consider a ghost tour. Seriously...everyone's doing it.
According to data from TripAdvisor Experiences, there has been a 79 percent increase in Ghost & Vampire-themed tour bookings since 2017. This statistic is even higher in the United States, with booking rates up 108 percent since last year. Even if you don't scare easily, chances are one of the Top 10 Ghost Tours in the U.S. will leave you wanting to sleep with the lights on.
1
Savannah's Ghost Encounter Walking Tour
This walking tour is up a whopping 1,014 percent since last year. Like most guided tours, you'll be able to listen to your guide through a set of earbuds as they tell ghost stories. The difference? You'll watch firsthand-account videos and photos to back up why people claim the city's haunted. Nicole R even shares, "At the Sorrel-Weed house, I was scratched by one of the ghosts."
2
Haunted Stroll Through Old St. Augustine
On this Florida ghost tour (up 587 percent since 2017), mamayagy313 shares, "The best thing was being able to go inside the cottage and use the ghost hunting equipment to communicate with the spirits." This tour, which is limited to 10 people, lasts 1.5 hours, during which you walk through various haunted locations and two cemeteries.
3
New Orleans Killers and Thrillers Tour
Adults, this tour is for you—no wonder bookings are up 440 percent! This tour will take you through haunted mansions, former brothels, and historic bars, where you'll learn about the true crimes and tragedies of New Orleans.
4
Ghosts of Charleston Tour
Access to the Unitarian Church Graveyard after hours? AH! According to the tour's description, this graveyard is "known by locals to be haunted by people who have been buried there in tombs or graves." Additionally, you'll walk by buildings and landmarks where spirits might be lurking.
5
Dark Side of Charleston Walking Tour
Parental advisory: This tour is deemed "raunchy" by visitors...in the best way. Up 287 percent in bookings, this 90-minute tour takes participants through the scandalous history of brothels and misbehavior in the "underbelly of the Holy City."
6
Chattanooga Murder and Mayhem Haunted History Tour
Catch a glimpse of "Underground Chattanooga" and take lots of photos. The tour guide encourages them, as it is common to see "unexpected photobombs" in the background of your photos. Hulagirl77 says she "definitely felt some chills down my spine a few times."
7
The Dead of Night Ghost Tour
Follow a guide dressed as a colonial townsperson through the streets of Williamsburg as you learn of ghosts and apparitions in haunted areas—like Governor's Palace— and burial grounds.
Let's just say Matt R's review alone could explain why bookings are up 164 percent: "Being a true clairvoyant, I was skeptical since our guide was not a medium. However, his storytelling and knowledge explained the many things I was seeing for myself...I highly recommend this tour to those who 'don't believe.' Goosebumps are guaranteed!"
9
Ghosts and Graveyard Tour of Pensacola
Ready to ride around Florida in a 1930 Ford transit bus and see ghosts? This "frightseeing" tour is definitely for you. You'll see that the 160 percent increase means more and more people want to learn of Pensacola's "dark past" and the five different haunting types you may encounter there.
10
Williamsburg Ghosts and Witches Combination Tour
For two hours, you'll wander through Williamsburg visiting haunted places and learning about the 17th-century witch trials. Look out for photo orbs and other paranormal activity, the site shares.