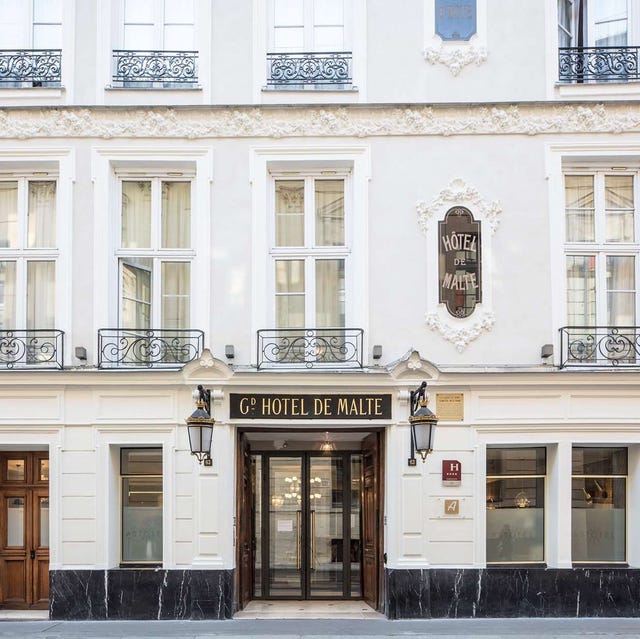 Planning a trip to Paris, France any time soon? If so, you won't want to book your stay in any old hostel or boring chain hotel—you'll want to experience Paris authentically, and in style. Boutique hotels are a great option for those traveling to the City of Love because they offer a more intimate and authentic atmosphere.
These one-of-a-kind hotels also often have fewer guests, making their service top-notch. Check out our recommendations for the best boutique hotels in Paris, and make sure to enjoy all the Parisian amenities you can—especially the croissants!
Hôtel Malte is filled with luxe, trendy rooms with even trendier white bathrooms. It's bright exterior invites you in, but the gorgeous garden patio and cozy breakfast breakfast room will make you stay.
Price: $184/night
Hôtel Malte. TripAdvisor
The Relais Christine was build on the foundation of a 13th-century abbey. To enter, you'll walk through the calming garden oasis that guests are free to hang out in, and bicycles are free of charge for visitors to use to roam the city of Paris.
Price: $388/night
Relais Christine, TripAdvisor
Hidden Hotel's rustic exterior continues on throughout its rooms and bathrooms, creating a completely calming environment. It's truly "hidden" with its nature-inspired decor and contemporary ambiance.
Price: $183/night
Hidden Hotel, TripAdvisor
4
Citadines Saint-Germain-des-Prés Paris
The Citadines Saint-Germain-des-Prés is located right on the banks of the Seine, giving you all of the photo ops you could imagine. The building itself is a discreet design that faces right out onto the river. Bonus: it's also super close to the famous Notre Dame Cathedral.
Price: $216/night
Citadines Saint-Germain-des-Prés Paris, TripAdvisor
The Grand Powers Hotel has been open for 100 years, and has recently undergone a transformation form the inside out. Despite its age, the hotel is equipped with modern amenities: each room comes complete with a Nespresso coffee machine and a Smart TV. Plus, there are plenty of rooms available with a gorgeous view of the Eiffel Tower.
Price: $454/night
Grand Powers Hotel, TripAdvisor
Hôtel Le Six is a luxury, contemporary-styled boutique hotel that belongs to the Paris Boutique Hotels group. It has a spa and a fitness center, and is 10 minutes from Saint-Sulpice and Saint-Germain-des-Prés.

Price: $278/night
Hôtel Le Six, TripAdvisor
Hôtel Fabric is a former textile factory that was transformed into an aptly-named boutique hotel. The 33 stylish guest rooms are as colorful as they are trendy, and the central location of the hotel is perfect for travelers.
Price: $217/night
Hôtel Fabric, TripAdvisor
This hotel is located in a 17th century building in the heart of the Saint-Germain-des-Prés district. The sleek and modern decor of each room is mimicked throughout the boutique hotel, and the courtyard garden is the perfect place to relax after a long day of exploring Paris.
Price: $196/night
Millesime Hotel, TripAdvisor
Hôtel Molière is a brand new boutique hotel with traditional architecture in the heart of Paris, named for one of the country's most famous writers. It's definitely the real deal—it has a perfect 5-star rating on TripAdvisor.
Price: $203/night
Hôtel Molière, TripAdvisor
Located just a few feet from the Louvre, this boutique hotel is the perfect spot for art lovers. Hôtel La Tamise prides itself on its romantic environment in the City of Love.
Price: $252/night
Hôtel La Tamise, TripAdvisor