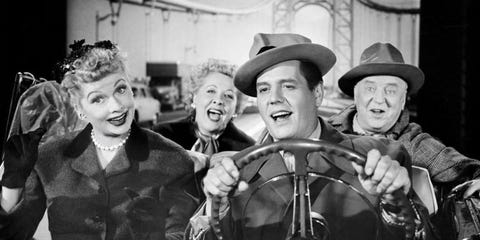 There's a reason 40 million Americans still watch syndicated episodes of I Love Lucy every year: The show is an example of entertainment at its finest — and, honestly, it just gets us. But there's a lot about the show's backstory that you can't witness in reruns.
1
It all started with a radio program.
In 1948, CBS went to Lucille Ball in hopes to turn her popular radio show called "My Favorite Husband" into a television program. While the radio version originally featured Richard Denning as Lucy's husband, she told the network she'd agree only if her real-life husband (Desi Arnaz) was cast in the role. Originally, the network had their doubts, but ultimately they agreed (and we bet they're glad they did!).
2
Ricky Ricardo almost went by the name of Larry Lopez.
Fortunately, producers didn't like the alliteration of Larry and Lucy.
3
It was one of the first shows filmed in Hollywood.
Before then, most shows were taped live in New York City, but since the Arnazes didn't want to move away from their Los Angeles home, the set was in California. It was also the first show to use three different cameras, which was revolutionary at the time.
4
A whopping 300 live audience members attended each taping.
No pressure. But the actors were so good that scenes very rarely had to be re-taped (meaning the audience often got a start-to-finish experience). This also helped Ball, who worked best when she had immediate audience feedback.
5
The actors who played Fred and Ethel hated each other in real life.
Say it ain't so! Sadly, William Frawley and Vivan Vance had to force themselves to be affectionate towards one another on the show. This conflict was so deep, that it even prevented them from spin-off success after the series ended, because they refused to work together.
6
Frawley had a reputation for being a heavy drinker.
Which initially made CBS wary of hiring him. But Arnaz (who had his own similar reputation) thought Frawley was the perfect actor for the role. He fought to bring him on, with the agreement that if he missed work for any reason, other than being legitimately sick, he would be written out of the show.
7
The heart in the opening credits wasn't what originally aired.
It only became the iconic opening once CBS started rerunning the series in 1959. Before then, the opening and closing credits featured clay figures of Ball and Arnaz with sponsored products from companies like Phillip Morris Cigarettes, Procter & Gamble, and Lilt Home Permanent.
8
It was the first show to syndicate reruns.
In fact, Arnaz is credited for inventing the rerun. He came up with the concept as a way to give Ball some much needed time off after having a baby.
9
44 million viewers watched the episode where Lucy gave birth to little Ricky.
That's 72% of all U.S. homes who owned TVs at the time. And more watched this episode than Dwight D. Eisenhower getting sworn in as President the very next day.
10
Arnaz wore lifts in his shoes to make him look taller.
He listed his official height as 5'11", but he was really 5'9" and can credit his two inch boost to his special shoes.
11
Vance says her contract required her to always weigh 10 pounds more than Ball.
Although it's never been officially confirmed if this is a fact or just a joke. But perhaps it doesn't matter, because the two woman remained friends even after their time on the show ended.
12
It was the first show to end while still being number 1 in the Nielsen ratings.
But it wasn't just the last season that reigned supreme: I Love Lucy held the top title for four out of its six seasons.