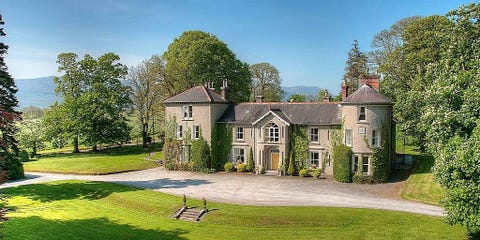 The saying goes, "Everyone is Irish on St. Patrick's Day," and there's no better excuse to jaunt off to Éire than to get in touch with one's Celtic roots. The scenic island is a haven for golfers, history buffs, and, yes, beer-drinkers, but it's also perfect for a cozy retreat in the rugged hills or on the ocean beaches.
Check out these unique (and stunning) accommodations in the land of Saint Patrick:
Ride horses across the historic manor's 65 acres, or curl up in front of the one of the many fireplaces with a James Joyce read.
Book it on HomeAway »
Get the true Medieval Times experience by spending the night in a 15th century Gaelic tower house. The roof walk (which is seven stories up!) looks out on the gentle hills of Clare.
Book it on HomeAway »
3
18th Century Gamekeeper's Cottage
The fifty-acre property borders a lake with private coves where you can go swimming, kayaking, and fishing.
Book it on HomeAway »
Catch a glimpse of beautiful mountain views in the garden (or through the stained glass windows inside) and it'll be even harder to leave this peaceful manor in Limerick.
Book it on HomeAway »
While the main house can host a large group of travelers, the two tiny cottages in the back courtyard are the estate's real charmers.
Book it on HomeAway »
This stately manor formerly belonged to the Butlers of Ormonde, a noble family that dates back to the 13th century.
Book it on HomeAway »
Movie buffs can get an insider experience staying on this scenic coastline — the blockbuster Star Wars: The Force Awakens was [link href="http://time.com/4166951/star-wars-ireland-tourists/" target="_blank" link_updater_label="external"]filmed on a island near the southwest peninsula.
Book it on HomeAway »
Attention, golfers: the local links course makes up part of this holiday home's estate. And don't worry — the house also has a game room for those inevitable rainy days.
Book it on HomeAway »
Stay in this tiny beach town and you can walk down to the shore during the day, and head over to the traditional pub with live music at night.
Book it on HomeAway »
Topped with a traditional thatched roof, this country home checks off all the boxes with a large sun room that opens onto the garden.
Book it on HomeAway »