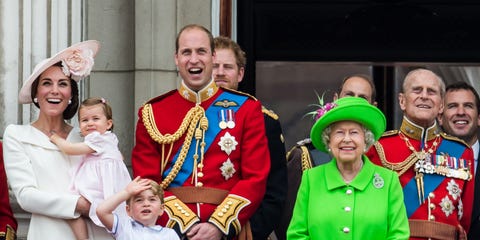 's continued this Saturday at the annual Trooping of the Color (where she trooped in a very unusual color). More than paraded through London past cheering crowds, followed by the big finale: a squad of jets roaring over Buckingham Palace.
But the fanfare didn't faze the newest royals. and were just too cute for words during their . Just see the two toddlers' show-stealing moments for yourself:
From:
1
When George looked just like his dad.
The youngest : his dad's outfit from Prince Harry's christening in 1984.
2
And he acted just like him, too.
Plus, their moms could pass for twins in those cream coats and blush hats.
3
When Charlotte was just too excited.
It was her first time on the big balcony, and she loved it. Meanwhile, George couldn't be more over Charlotte's scene-stealing (that, or a jet has caught his eye).
4
When George tried to salute.
The future king has plenty of time to work on his royal manners.
5
When George needed a hair adjustment.
The avid saluting messed up his adorable 'do.
6
When Charlotte tried to wave.
, but she's still mastering the Princess wave.
7
When George looked over the balcony.
Cue parents freaking out across the globe.
8
When Charlotte grabbed Kate's necklace.
The Princess wanted some bling for herself, but that's not the only time she's acted a little mischievous. The Duchess the day before that Charlotte is "cute but feisty."
9
When they looked exactly the same.
That furrowed brow, one finger in the mouth... There's no doubt they're siblings.
10
When George waved goodbye.
He knows who's the real star of the show.
To watch all of these precious moments unfold in real time, visit