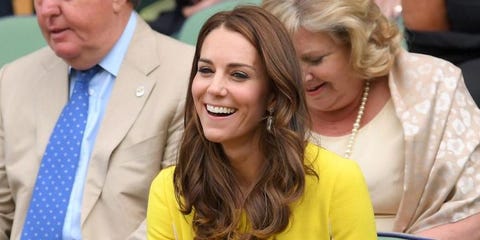 Even though the Duchess of Cambridge is royalty, it doesn't mean she's not like us. Okay, we know what you're thinking: "I don't spend Christmas with the Queen" and "My wedding wasn't televised to over 2 billion people across the world." Valid. But besides those minor details, these are all the ways she's just another girl next door.
1
She wears bargin boat shoes when she travels.
Forget the heels! Whether she's sailing in Auckland Harbor in New Zealand or on a safari at Kaziranga National Park in India, you can find Kate wearing Sebago's taupe and white Bala boat shoes. The best part? They only cost $99.
2
She uses a $13 hairbrush.
3
She gave Queen Elizabeth a homemade Christmas gift.
Talk about an intimidating person to shop for, right? Maybe that's why Kate chose to make the Queen her granny's chutney recipe the first Christmas she spent at Sandringham with the royal family. Don't worry, the Queen served it the very next day so we think it's safe to say it went over well.
4
She's not afraid to re-wear outfits.
In fact, this navy blue lace number is clearly one of her favorites, since she's worn it to three different public events.
5
She shops at Zara Home.
And Anthropologie, which gives us hope that some day we can live in as stylish of a home as she does. We even think the velvet pillow she leaned against when she chatted with Michelle Obama (okay, so that's not so relatable) is from Zara.
6
She admits she's not the best cook.
While attending a gala in support of East Anglia's Children's Hospices' Nook Appeal in June, she admitted she has a flaw: She can't cook! "William has to put up with my cooking most of the time," she told the chefs and People reports.
7
She knows all kids throw tantrums sometimes.
Yes, even royal toddlers at a super cool air show might throw a tantrum or two (and that's okay). We have a feeling her ability to stay collected helps Prince George calm down even faster.
8
She's worn the same boots for a decade.
Why try to fix something that's not broken? Kate loves her riding boots that are handmade from a Spanish vegetable-dyed leather so much that she hasn't stopped wearing them for ten years.
9
She wears earrings you can find for $8.
Sure, her custom Annoushka pearls with Kiki McDonough hoops are a little pricy, but you can look just like her when you buy this strikingly similar pair that only costs $8!
10
She sometimes wears leggings as pants.
There was no greater win for Team Leggings Are Pants than when Kate was spotted shopping in a pair of Lululemon's stretchy legwear.