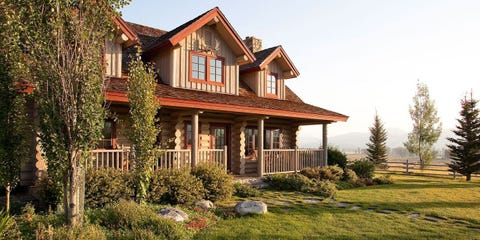 Forget glamping. The latest trend in travel involves heading to the wild, wild west and hanging one's hat at dude ranches, aka "city slicker" guest ranches. These unique resorts summon the same rustic feel travelers love about camping, only with less packing and a lot more pampering.
Situated before mountains or on scenic acreages, these luxury ranches offer tricked-out suites (even safari-style tents), spa services, and farm-fresh cuisine. Most ranch resorts also offer all-inclusive packages and a lengthy list of activities their guests can enjoy, from archery and fly-fishing, horseback riding and skiing.
Pop culture appears to be feeding the fire: HBO's Westworld, about a Western-themed futuristic theme park, wrapped season one at the end of 2016, and celebs have elevated ranches into Instagrammable hotspots — Gwyneth Paltrow visited Triple Creek Ranch, and models Lily Aldridge and Martha Hunt went to the Ranch at Rock Creek for New Year's Eve. Some stars have even decided to say "I do" on lodge grounds — Kate Bosworth married Michael Polish at The Ranch at Rock Creek, and Allison Williams wed Ricky Van Veen at Wyoming's Brush Creek Ranch. Whether you're a born-and-bred cowboy or girl at heart, or just want to vacation like one, here are some of the top ranch-spa hybrids on our list.
Where: Crawford, Colorado
Special offers: Overnight Safari experience (limited schedule during summer, advance reservation required).
To book: Visit smithforkranch.com.
Where: Solvang, California
Special offers: Packages geared toward horseback-riding, romance, golf, and relaxation.
To book: Visit alisal.com.
Where: Granby, Colorado
Activities: Horseback-riding, fly-fishing, ranger tours, outdoor spa with massage tents, and "Cowboy Soaks" in therapeutic copper tubs.
To book: Visit clazyu.com.
Where: Saratoga, Wyoming
Known for: Rustic honeymoon adventures and experiences like riding, fishing, shooting, and yoga.
To book: Visit brushcreekranch.com.
Where: Greenough, Montana
Known for: Luxury vacation homes, upscale camping, and kids activities.
To book: Visit pawsup.com.
6
The Ranch at Rock Creek
Where: Philipsburg, Montana
Known for: Rodeo, trail adventures, and locally-sourced organic cuisine.
To book: Visit theranchatrockcreek.com.
Where: San Francisco Soyaniquilpan, Mexico
Activities: Horseback-riding, guided tours, and spa massages.
To book: Visit rancholascascadas.com.
8
Siwash Lake Wilderness Resort
Where: British Columbia, Canada
Known for: Canvas cabins, and the ability for private groups to takeover of entire ranch.
To book: Visit siwashlakeranch.com.
Where: Tucson, Arizona
Activities: Spa services, kids day camps, Jeep adventures, and mountain-biking.
To book: Visit tanqueverderanch.com.
Where: Darby, Montana
Activities: Dog sledding, skiing, Cowboy School, and nature safaris.
To book: Visit triplecreekranch.com.