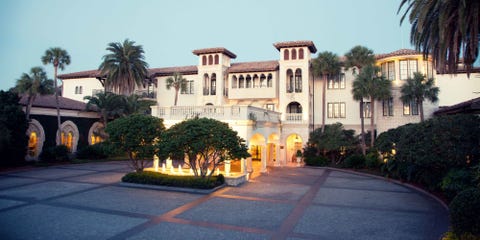 Soon after President Trump won the election, it was reported that membership initiation fees to doubled from $100,000 to $200K. Many people clamor to walk in the footsteps of a President and this one has the rare — if ethically murky — ability to capitalize on that.
While many of the former so-called summer and winter White Houses have been turned into museums — like Harry S. Truman's Little White House in Key West, Franklin Delano Roosevelt's Little White House in Georgia, or Thomas Jefferson's Monticello in Virginia — a slew of presidential playgrounds exist where the public can actually stay.
From Trump to Taft, Clinton to Cleveland, we've rounded up the retreats most beloved by Commanders-in-Chief during their moments of downtime.
While you can't stay at the actual presidential retreat, Camp David, which is located in Maryland's Catocin Mountain Park (it's private, with heavy security and a nondescript "Camp #3" sign instead of the old "Camp David" sign), you can stay at one of the adjacent camps and take in the same views and hike the same trails as presidents like Dwight D. Eisenhower, John F. Kennedy, Jimmy Carter, and Ronald Reagan. (Reagan reportedly visited more than any other President, and George Bush's daughter Dorothy was married here.) Visitors can camp or reserve a cabin, including at historic Camp Greentop, which features a recreation center, kitchen and dining hall, bathrooms, and cabins that sleep up to ten people.
6602 Foxville Rd, Thurmont, MD 21788,
, which the Trump administration has taken to calling the winter White House, is a 20-acre private club and National Historic Landmark in the heart of Palm Beach owned by President Donald Trump. While the private club — the former home of cereal heiress Marjorie Merriweather Post — famously contains a slew of luxurious amenities including a beach club, oceanfront swimming pool, multiple restaurants, a spa and salon, and six tennis courts, it also features a handful of private ocean-view hotel suites for club members and their guests. If you're not already a member and want to rest your head there, brush up on your networking skills — the club's initiation fee was just doubled to $200,000.
1100 South Ocean Boulevard Palm Beach, Florida 33480,
A 7,000-square-foot, five-bedroom, five-and-a-half bathroom beachfront estate in Kailua Bay, Hawaii, this privately owned home is a favorite of President Barack Obama, who stayed here with his family several years in a row. (It's here that Obama signed a 9/11 First Responders Bill into law.) Owned by Glenn Weinberg, the retreat sleeps 10 guests and features a lagoon-style pool, beach and mountain views, and access to personal chefs, a championship golf course, and massage services — all for a cool $4,500-per-night price tag.
Paradise Point, Kailua Bay, Hawaii,
4
Round Hill Hotel and Villas
Located on 110 sprawling hillside acres in Montego Bay, Jamaican retreat Round Hill was a repeat stay for John F. Kennedy both before and during his presidency. It's here he penned his famous "Ask not what you can do for your country" inauguration address in villa 25, while the four-bedroom villa 10 was a favorite of his and Jackie's, and the couple spent part of their honeymoon here. Today, guests range from royalty to Ralph Lauren, who owns two villas on property, visits several times each year, and designed the bar and guest rooms in the main Pineapple House complex. Regulars are drawn by the palatial villas — complete with personal staff, private pools and Caribbean views — as well as the indoor/outdoor spa, James Beard award-winning chef, and familial atmosphere.
John Pringle Drive, P.O. Box 64Montego Bay, Jamaica,
5
The Mission Inn Hotel and Spa
A National Historic Landmark laden with atmospheric charm, Riverside, California's Mission Inn has had a long Presidential history. Built in 1903, Presidents William McKinley, William Howard Taft, Teddy Roosevelt, Herbert Hoover, John F. Kennedy, Gerald Ford, and George W. Bush all visited the Spanish-style hotel, while Ronald and Nancy Reagan honeymooned here. The hotel was particularly special for Richard Nixon—he visited frequently while growing up in nearby Yorba Linda and was married there in 1940 in the Presidential Suite, so named following Teddy Roosevelt's stay. Today, the former Presidential Suite is a cocktail bar called the Presidential Lounge, which features photos of its famous guests including Bette Davis (who was married here) and Amelia Earhart (who visited the Mission Inn in 1928, a few months after ).
3649 Mission Inn Avenue, Riverside, CA 92501,
Richard Branson's private 74-acre Caribbean island has played host to a slew of world leaders and royalty over the years — including former President Jimmy Carter, Princess Diana, Nelson Mandela, and Tony Blair — and following their final White House departure. While the island is normally available for rent for $78,000 per night, there are occasional "Celebration Week" periods where guests can book individual rooms from (only) $4,280 per night. Guests who rent the entire island — which sleeps 34 — have access to tennis, pilates, yoga, five restaurants, a Balinese spa, and a disco DJ, plus over-the-top activities like zip lining, champagne diving, and sumo wrestling.
Necker Island, British Virgin Islands,
7
The Sanctuary at Kiawah Island
South Carolina's tony Kiawah Island — featuring seven elite golf-courses including the Ocean Course, home to the 2012 and 2021 PGA Championship — has played host to a slew of VIPs over recent years. President Bill Clinton, President George H.W. Bush, President George W. Bush, Vice President Joe Biden, and Vice President Dick Cheney have all stayed at the island's 255-room retreat, The Sanctuary at Kiawah Island. The elite island — which includes a private club and real estate development beloved by boldfaced guests — features ten miles of master-planned beaches, two private clubs, and a members-only fine-dining restaurant, Voysey's, with Consulting Chef Tom Colicchio.
Kiawah Island Golf Resort, One Sanctuary Beach Drive, Kiawah Island, SC 29455,
America's oldest seaside resort, the picturesque beachfront town of Cape May, New Jersey is home to the recently restored Congress Hall. Celebrating its bicentennial in 2016, Congress Hall was extremely popular in the second half of the 19th century with Presidents from Franklin Pierce and James Buchanan to Ulysses S. Grant and Chester Arthur. President Benjamin Harrison is most closely associated with the hotel; he conducted state business here in 1891, leading it to be dubbed the "Summer White House." Today, guests enjoy the resort's Victorian feel, as well as beachfront yoga, its Sea Spa, and comfort food at the Blue Pig Tavern.
200 Congress Pl, Cape May, NJ 08204,
Ten presidents have visited Pennsylvania's Allegheny Mountains retreat Omni Bedford Springs since it opened in 1804. (It's hosted veeps, too; one of the first guests was Vice President Aaron Burr, shortly after his duel with Alexander Hamilton.) Presidents Thomas Jefferson, Andrew Jackson, Zachary Taylor, John Tyler, William Henry Harrison, James Buchanan, James Garfield, James Polk, William Howard Taft, Dwight D. Eisenhower, and Ronald Reagan all stayed at the property. Buchanan was an especially frequent guest, making the hotel his summer White House, and receiving the United States' first transatlantic cable — a message of peace and goodwill from Queen Victoria — in the hotel's lobby in 1858. Today, the resort is home to a 30,000-square-foot mineral springs spa, a Donald Ross/A.W. Tillinghaust-designed 18-hole golf course, and a glass-preserved 39-star American flag from 1865 (the only 39-star US flag in existence).
2138 US-220 BUS, Bedford, PA 15522,
10
Autograph Collection's The Mayflower Hotel
For nearly a century, since 1925, Washington DC.'s Mayflower Hotel has brought together D.C. power players — both the famous and the infamous. (Guests have ranged from J. Edgar Hoover to Eliot Spitzer.) The elegant hotel, renovated in 2015, is where Franklin Delano Roosevelt wrote his iconic "The only thing to fear is fear itself" inaugural address in room 776. During the first three months of his term, President Truman lived at the hotel as the White House was being remodeled — he dubbed it "Washington's second best address" — and presidents from Clinton to Coolidge to Reagan have all stayed, played, or dined here.
1127 Connecticut Ave NW | Washington, DC 20036,
11
The Cloister on Sea Island
A tiny five-mile-long barrier island off the coast of Georgia — complete with three championship 18-hole golf courses, beachfront horseback riding, paddle-boarding, clay shooting, and a 65,000-square-foot spa — Sea Island is a long-time favorite of the Bush family. (They're also, of course, frequently found at the .) George and Barbara Bush honeymooned at Sea Island's five-star hotel, the Cloister — one of two five-star hotels on the island — returning for their 50th wedding anniversary to stay in the hotel's 2,200-square-foot Sea Island Suite. Their son George W. Bush hosted the 2004 G8 summit on the island, welcoming world leaders including Vladimir Putin, Jacques Chirac, Silvio Berlusconi, and Tony Blair, and several of America's most high-profile business and congressional leaders — including Karl Rove, Elon Musk, Tim Cook, Larry Page, Sean Parker, Mitch McConnell, and Paul Ryan — descended on Sea Island in 2016, reportedly discussing how to stop the rise of now-President Donald Trump.
100 Cloister Dr, Sea Island, GA 31561,
Built in the 1740s in Lumberville, Pennsylvania, Victorian inn Black Bass was a beloved vacation spot for President Grover Cleveland, who loved to fish nearby and visited frequently. President Cleveland's favorite room is now a suite named after him and includes many of the original furnishings, most notably a giant bathtub large enough for him to fit in. Incredibly, during the Revolutionary War, President George Washington was refused a stay by the hotel's British loyalist owners.
3774 River Rd. Lumberville, PA 18933,
Open since 1895 in Richmond, Virginia's majestic Jefferson Hotel has been visited by thirteen Presidents, including Teddy Roosevelt, Franklin D. Roosevelt, Ronald Reagan, George HW Bush, George W. Bush, Bill Clinton, and Barack Obama. In addition to its sweeping marble staircase — rumored to be an inspiration for the one featured in Gone With the Wind — The Jefferson was famous for its alligators swimming in marble pools in the lobby, mere steps from reception. (Tales abound of alligators discovered in the library.) The last alligator died in 1948, although homages still remain throughout the hotel and in its fine-dining restaurant, Lemaire.
101 W Franklin St, Richmond, VA 23220,
Zurich's palatial five-star Dolder Grand has played host to myriad heads-of-state including David Cameron, Vladimir Putin, Prince William, and Henry Kissinger, but it's a particular favorite of Bill and Hillary Clinton, who have stayed many times over the years. The Clintons are but a few of the Dolder's devoted fans, thanks to its world-famous art collection, including pieces from Andy Warhol, Salvador Dali, Camille Pissaro, Keith Haring, Takashi Murakami, and Damian Hirst. Meanwhile, the 43,000-square-foot spa is unspeakably luxurious — with 18 treatment rooms, a snow room, kotatsu footbaths, cold plunge pool, steam room, multiple saunas, indoor and outdoor whirlpools, an indoor pool, and a zen meditation walk.
Kurhausstrasse 65, 8032 Zürich, Switzerland,
15
The King David, Jerusalem
Located only a mile from the Western Wall, the Dome of the Rock, and the Second Temple in Jerusalem, the King David has been a repeat stay over the years for presidents visiting the holy land. Former presidential guests include Barack Obama, Bill Clinton, George Bush, Jimmy Carter, and Richard Nixon, with international dignitaries like Tony Blair, Winston Churchill, Kofi Anan, Nelson Mandela, and Henry Kissinger picking the King David as the only place to stay in Jerusalem. (Following the Nazi occupation of his country in 1942, King George II of Greece even set up his government in exile here.) Today, all of its three VIP suites face the Old City, and the hotel also features private gardens, a tennis court, a playground, and heated swimming pools for both adults and children.
23 King David St., Jerusalem 94101,
16
Hotel Adlon Kempinski Berlin
Mere steps away from the iconic Brandenburg Gate, the Hotel Adlon Kempinski Berlin has long been a favorite of presidents, including the Bushes Senior and Junior, Bill Clinton, and Barack Obama. Guests staying in the Presidential Suite enjoy a personal butler and 24/7 limousine service, and the hotel is home to a two-Michelin-star restaurant, Lorenz Adlon Esszimmer.
Unter den Linden 77 , 10117, Berlin, Germany,
The preeminent East Coast hotel when it opened in 1927 — the Norfolk and Western Railroad named a train after it, and F. Scott and Zelda Fitzgerald stayed for months — Virginia's Cavalier Hotel has hosted more than 10 U.S. Presidents thanks to its close proximity to Washington D.C. Commanders-in-chief including Calvin Coolidge, Herbert Hoover, Harry Truman, Dwight Eisenhower, John Kennedy, and Lyndon Johnson stayed here, and there is a pervasive rumor that frequent guest President Nixon may have burned a key Watergate audio tape in the Hunt Room.
4200 Atlantic Ave, Virginia Beach, VA 23451,
18
The Kahala Hotel & Resort — a member of the Leading Hotels of the World
Only ten minutes from Waikiki on Oahu, The Kahala — known as "Ka-Hollywood" — holds the distinction of having been visited by every president (bar one) since it opened in 1964. Ronald and Nancy Reagan were honored guests at its 20th anniversary party in 1984, Carter and Ford once ate there on the same day, and President Obama held an important fundraiser at the hotel before his inauguration. The hotel's 1,500-square-foot Presidential Suite boasts views of Koko Head Crater, the Pacific Ocean, and Diamond Head, while other high-profile guests have included Princess Grace, Emperor Hirohito of Japan, Hillary Clinton, and Prince Charles and Princess Diana, whose entourage required 100 rooms.
5000 Kahala Avenue, Honolulu, Hawaii, 96816,
19
The Willard InterContinental
Only one block away from the White House, Washington D.C.'s Willard InterContinental holds the distinction of having hosted almost every president since Franklin Pierce. Abraham Lincoln and his family stayed here in Parlor No.6 on the second floor for 10 days prior to his inauguration in 1861, conducting official business, choosing cabinet members, and receiving visitors — including the Democratic candidate he defeated, Stephen Douglas. Meanwhile, Calvin Coolidge lived at the Willard during his entire vice presidency and remained for a short time as president. The Pennsylvania Avenue hotel — which features a Red Door by Elizabeth Arden Spa and the iconic 175-year-old bar, Round Robin — has several suites named after a founding father: the Abraham Lincoln Suite, the Thomas Jefferson Suite, the George Washington Suite, and the John Adams Suite. (There is also a Matthew Perry Suite, but — sadly — it's named after the famous Commodore, not the famous Friend.)
1401 Pennsylvania Avenue, Washington, DC 20004,