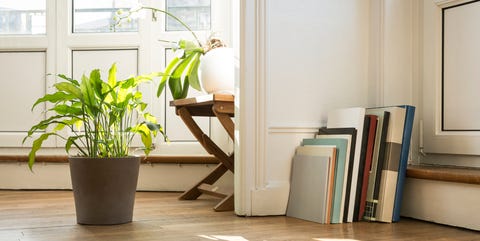 These low-light varieties won't want anything to do with your already-crowded windowsill. Check out the list below, then, once you've built up the confidence to go all out, take your Plant Lady status one step further with , a beginner's guide to gardening. You've got this.

The Backyard Homestead, $18.95; HearstProducts.com
Chamaedorea
$12, amazon.com
This plant, also known as the Victorian Parlor Palm, is famously resilient. It'll liven up any bland corner of your home.
Japanese Sago Palm
$8, amazon.com

If you've ever dreamed of having a palm tree as part of your decor, look no further. It might not be quite as tall as the ones in Beverly Hills, but it's way cuter (and easier to maintain).
Aglaonema
$24, amazon.com
This pretty, pink-and-green plant is as low-maintenance as they come.
Weeping Fig Tree
$33, amazon.com
Don't let the sad name turn you off. This quick-growing tree adds some life to any room in the house, and requires little more than the occasional trim and some regular watering.
Devil's Ivy
$2, amazon.com

This plant gets its name from the fact that it grows vines even in the worst conditions. That can be bad if it's planted outdoors where it can choke out other plants, but for growing inside, it's perfect.
Dieffenbachia
$19, amazon.com

is best for this plant. Try using a curtain as a barrier between it and the sun, especially during the the spring and summer when the plant is producing new, tender leaves.
Dragon Tree
$12, amazon.com

Spiky leaves that grow upwards and have a red outline makes the absolutely perfect. But direct sunlight could damage them, so give this guy some sun and some shade.
Spider Plants
$13, amazon.com

This plant's adaptability makes it super easy to grow and therefore, super popular. Plus, it's easy to with others. It can stand up to a lot of neglect and will thrive in indirect light.
Heart-Leaf Philodendron
$10, amazon.com

The sweetheart plant (a nickname given because of the shape of its glossy leaves) can stand dim rooms, but to prevent it from growing in long, single stems.
Bromeliads
$12, amazon.com

Didn't expect to find a tropical plant on this list? This houseplant can actually survive on florescent light alone and thrives in , like bathrooms.
Chinese Evergreen
$24, amazon.com

Since this plant is one of the (it does quite well in low light) and only needs to be fertilized once or twice a year, it's ideal for beginner gardeners.
Snake Plant
$29, amazon.com

While the name is fun, this succulent is pretty tame (read: easy!) when it comes to maintenance. More light will help it grow, but it can tolerate darkness—just watch out for root rot caused by overwatering.
Был найден мной интересный интернет-сайт , он рассказывает про
buysteroids.in.ua
.
Этот полезный веб портал про направление
мальдіви ціни
.