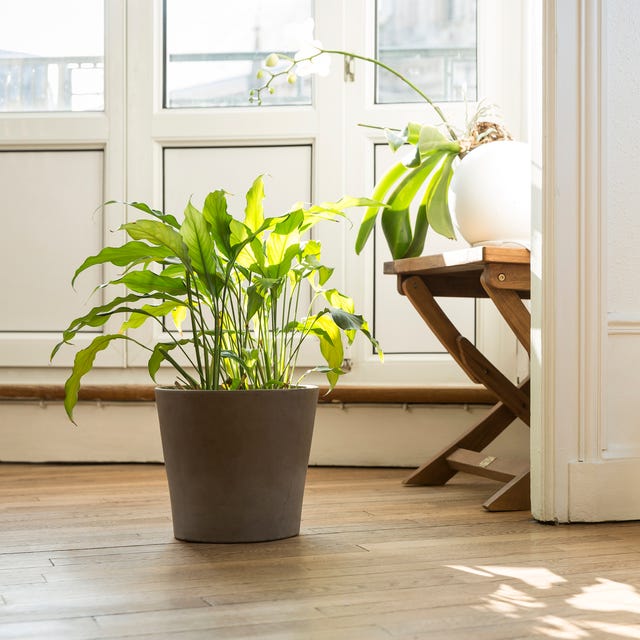 Etienne Jeanneret
Getty Images
Sure, there's something delightful about going to your local nursery, perusing all the lush, green plants and flowers to choose from—it really can't be beat. But sometimes you just want to fill your home with plants and don't have time to shop for them in person, or easy transportation to bring all your new plant friends back with you. That's where the internet comes in, because no, you don't have to buy your plants in person, and yes, there are tons of online resources to not only help you find the right plants for you, but to also have them delivered directly to your door.
Prospective plant parents and houseplant pros, these are some of the best places out there to buy plants online from the old, reliable staples to a few stores that might surprise you (some are even majorly budget-friendly!). Whether you're looking for a handful of air plants or a giant fiddle leaf fig tree, you're sure to find them at one of these stores, without ever leaving your house.
BUY NOW Golden Pothos, $24.99
You might not realize you can buy plants on Amazon, but the retailer actually has a huge offering of live plants, bulbs, and seeds, from trusted brands like Costa Farms and more. Just head to Amazon's Plants Store to shop the full selection.
Shop more plants at Amazon.com.
BUY NOW Bear Paw Succulent, $3.25
Yep, that's right—along with vintage finds and amazing handmade pieces, you can also buy live plants, seeds, and other gardening necessities on Etsy. Narrow down your search by categories like succulents and cacti, air plants, herbs, fruit and vegetables, and more.
Shop more plants at Etsy.com.
BUY NOW ZZ Plant, $19
While finding plants on Etsy and Amazon may be a surprise, The Sill is probably the first place you think of when you think of ordering houseplants online. On the site, you can shop by plant size, light requirements, and categories like "pet-friendly" and "easy for beginners," and you'll also find tons of info on plant care.
Shop more plants at TheSill.com.
BUY NOW Aloe Vera Plant, $39.99
At 1-800-Flowers.com's recently expanded Plant Shop, you'll find nearly 150 varieties of plants from popular houseplants and blooming plants to succulents, bamboo, and more. Plus, like The Sill, you'll also find tons of helpful information for caring for your plants, as well as things like choosing the right one for you (or to send as a gift!).
Shop more plants at 1-800-Flowers.com.
BUY NOW Olive Tree Plant, $48
You won't find the largest selection of live plants on Terrain's website, but combined with its offerings for flowers and seeds (and grow kits!) as well as indoor and outdoor plant essentials, it's an internet goldmine for gardeners.
Shop more plants at Terrain.com.
BUY NOW Snake Plant, $59.99
Think you can only order flower arrangements and bouquets from ProFlowers? Think again! ProFlowers has a special section of the site called ProPlants, and it is stocked with tons of popular and unique houseplants to choose from.
Shop more plants at ProFlowers.com.
BUY NOW Zebrina Plant, $65
Another brand that's more than just flowers: The Bouqs Co.! The brand has a small, curated selection of houseplants to choose from, with options like zebrina plants, snake plants, succulents, ivy, lavender, and more.
Shop more plants at Bouqs.com.
BUY NOW Runyon Cactus, $48
Urban Stems is yet another brand known for flower deliveries that has houseplants to choose from, too. Order them for yourself or have them sent to loved ones as gifts—either way, this small but mighty selection of plants (that come with unique planters!) is a great option.
Shop more plants at UrbanStems.com.
BUY NOW Happy Trails Collection, $65
Bloomscape is more than just an online plant store—it's also a resource for plant parents, from newbies to gardening pros. You can easily filter plants by things like size, difficulty, and light level. And you'll find detailed care info on all of the plants available, too. Plus, customers can now take advantage of Bloomscape's five new curated collections—each a set of three small plants ($65 total) that are hand-selected to grow well together, with options for trailing plants like the ones seen here, pet-friendly sets, easy-to-care for plants, and more.
Shop more plants at Bloomscape.com.
BUY NOW Pilea Peperomioides, $25
Another brand that allows you to easily narrow down your plant search to find the perfect addition to your collection, Greenery Unlimited gives you the option to filter by size, plant type, light requirements, care difficulty, and plant benefits like whether or not they're air purifying or drought tolerant.
Shop more plants at GreeneryUnlimited.co.
BUY NOW Parlor Palm, $79
Want to shop specifically for a plant that will work in an ultra-small space, or your office, Léon and George lets you browse by your plant needs. You'll find a curated selection of lush plants in high-end planters and stands (with different colors to choose from, of course!)
Shop more plants at LeonAndGeorge.com.

SUBSCRIBE NOW Air Plant Subscription, $9.99/month
As a bonus, head to Urban Sprouts, a Washington-based plant store, for a couple of regular plant subscriptions to keep your collection growing, alongside a small selection of plants and bulbs (you'll find much more in the IRL shop). Subscribe to the Air Plant of the Month Club for $9.99 a month, or to the Cactus Collector's Club, which delivers every three months for $24.99.
Shop more plants at UrbanSprouts.com.