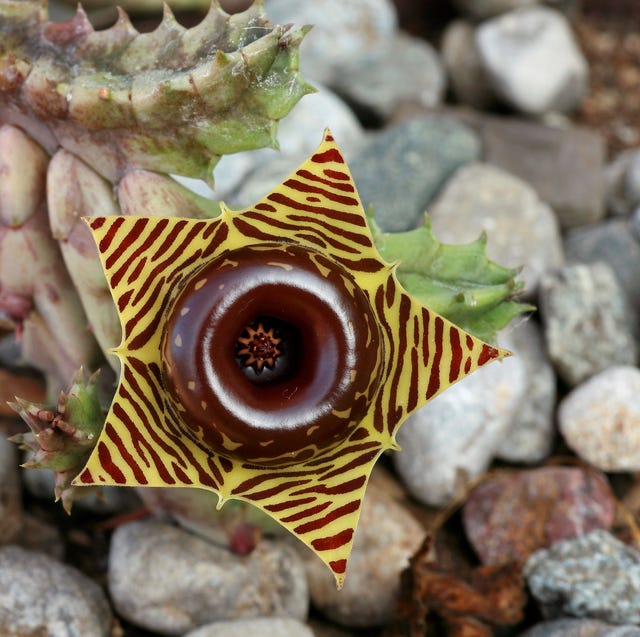 You can probably recognize a snake plant without a second glance, and a pothos plant is pretty easy to spot, too. But what about nerve plants, dolphin succulents, and hoya hearts? Nature is truly amazing in that you'll find some incredible (and strange and unusual!) plants out there, and many of them make great houseplants, too. These fascinating plants are so cool, you'll want one of each for your indoor garden—whether you're seeking a striking succulent or something bigger, bolder, and full of color. Some of these are even low maintenance enough, you can keep them in your office. (Yes, even your dark cubicle!)
BUY NOW $10, amazon.com
Also known as Fittonia, these plants got their nickname due to their bright leaf veins. Their vibrant coloring and unusual patterns will wake up even the most boring spots in your home.
BUY NOW $8, amazon.com
Okay, they're not technically stones, but lithops—also called pebble plants—are a strange flowering plant that mimic rocks, hence the name. The key to growing these at home? Don't overwater them.
BUY NOW $9, amazon.com
True to its name, the tiny leaves on this sprawling succulent look exactly like swimming dolphins—it's almost too good to be true. If you want your own, the technical name for this variety is Senecio peregrinus.
BUY NOW $12, etsy.com
Anyone who appreciates a signature red lip will love the this bright red succulent. Some are red all over, others are green with bright red tips, but in any case, Echeveria agavoides is sure to add a pop of color to any indoor garden.
BUY NOW $20, amazon.com
Also known as the sweetheart plant, Hoya kerrii is undoubtedly the most romantic succulent out there. It's a popular gift for Valentine's Day (for obvious reasons) and is super low-maintenance when it comes to care, like most succulents. It's often sold as clippings of single leaves, as seen here, but you can also find it as a full plant with vines covered in little heart leaves.
BUY NOW $13, etsy.com
Even though this playful plant is technically called Selenicereus anthonyanus, it's more commonly known by nicknames like the zig-zag or fishbone cactus. Like most cacti, it's relatively low-maintenance and produces colorful pink flowers when it blooms.
BUY NOW $30, amazon.com
With bright pink stems and red or deep pink-tipped leaves, this easy-to-care for houseplant certainly makes a statement. Keep it in medium to bright indirect light and its color will be even more pronounced, but it can thrive (and stay colorful) in lower light, too.
BUY NOW $20, etsy.com
Greenovia earned its nickname because it looks just like a rose (and you can find them in green and pink varieties), but these succulents are much easier to keep alive than flowers—all you need to do is water the top of the soil when it's dry.
BUY NOW $22, amazon.com
Ferns come in all shapes and sizes, but the staghorn fern is one of the more unique types out there. This variety gets its name for its uniquely shaped leaves that look like, well, animal horns.
BUY NOW $13, amazon.com
With dramatic, spiral-patterned leaves, this plant has a bit of a Tim Burton-esque feel, doesn't it? Rex Begonia is also fairly easy to care for—just make sure you don't wait too long in between waterings and give it a good misting, since it loves humidity.
BUY NOW $3 for seeds, amazon.com
You can grow these orchid-related flowers indoors or out, but either way, their all-black appearance is pretty striking. Technically known as Tacca chantrieri, these rare flowers thrive in a warm environment.
BUY NOW $13, etsy.com
These tiny bunnies, AKA Monilaria obconica, will eventually look unrecognizable as rabbits (their "ears" will grow longer and longer as their base stays the same), but you can't deny this succulent is irresistibly cute.
BUY NOW $25, etsy.com
Even though it might look like it bunch of bubbles settled on it, it's actually those clumps of small rosettes made out of fleshy green leaves that make this plant so unique.
BUY NOW $27, etsy.com
Looking more like a colorful undersea coral reef than a cactus, Euphorbia lactea is a stunning variety that will thrive in a bright environment with minimal water.
15
Donkey's Tail Succulent
BUY NOW $6, amazon.com
Commonly known as Donkey Tail, Sedum morganianum is a unique succulent variety that produces sprawling stems that can grow up to 24 inches long with round, blue-green leaves.
BUY NOW $11.50, etsy.com
This strange, yellow and brown-banded flower gets its nickname thanks to its round, lifesaver-shaped center. Technically called Huernia zebrina, this succulent also features cactus-like foliage.