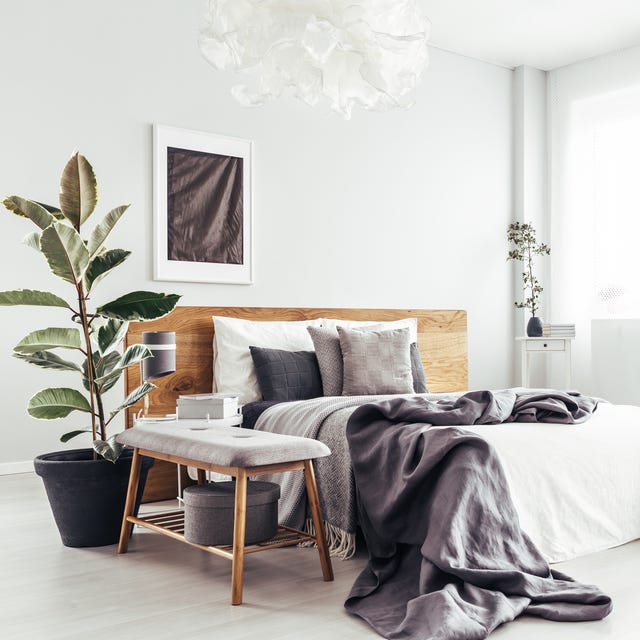 KatarzynaBialasiewicz
Getty Images
Tiny houseplants are adorable and all, but large, oversized houseplants are a growing (sorry, couldn't resist!) trend. Not only do they add a whole lot of life to your home, but they're also a great option if you want to make a statement with your decor. Just a few tall plants are all it takes to turn your home into a tropical oasis, your own personal indoor jungle, or even a Tuscan villa. But you can't just fill your home with any old plants—make sure you get one that you can take care of, too. After all, the bigger the plant, the more expensive it usually is. Here are some of the most popular oversized plants out there, where to buy them, and how to keep them thriving in your home.
Snake Plant
BUY NOW $45, proflowers.com
If you're a beginner plant parent but want a large, statement making addition your new plant collection, go with a snake plant. It's pretty much the easiest to take care of, since it's super forgiving—just don't overwater it, and you should be good to go!
Monstera
BUY NOW $40, etsy.com
Monstera plants have been a big trend over the past few years, and they're not going anywhere. They thrive in a little humidity (great for a bathroom!) and can grow in just about any light level. Make sure you mist them and keep their leaves clean.
ZZ Plant
BUY NOW $48, etsy.com
If you're looking for a sleek, low-light option, go with a ZZ plant. They're super low maintenance (they prefer to be dry, so you don't have to water them as often) and can handle any humidity level.
Rubber Tree Plant
BUY NOW $50, proflowers.com
Invest in a rubber tree plant if you have a sunny spot to put it in—it won't do well in a low light environment, but given the right amount of light and a higher humidity level (or regular misting) this beauty will thrive in your home.
Fiddle Leaf Fig
BUY NOW $78, amazon.com
Fiddle leaf figs are about as popular as they are infamous for being hard to care for, but you can maintain one of these in your home if you know what you're doing. Avoid overwatering, give it plenty of sunlight, and keep it clean, and it should be OK.
Parlor Palm
BUY NOW $49, amazon.com
If you want a dramatic, tropical look but don't have a lot of sunny spots in your home, go with a parlor palm. They're low-light plants that thrive in average humidity and prefer to be dry, so they're pretty low maintenance, too.
Ficus Benjamina
BUY NOW $80, amazon.com
Put this ficus (AKA the Weeping Fig) in a sunny corner and mist the leaves in warmer weather—you know, along with regular watering—and it'll give your home new life.
Draecana
BUY NOW $20, amazon.com
There are tons of varieties to choose from (like this stunning red!) with Draecana plants, but the good thing about them is that they're forgiving, like snake plants. Keep them on the drier side and give them a good amount of light (they're not low-light plants) and they'll do just fine.
Money Tree
BUY NOW $90, 1-800-flowers.com
Money trees are beautiful (especially with braided stems) but they're a little more challenging to care for. They require medium to bright indirect light as well as extra humidity, and while they should be watered infrequently, they require a lot of water each time.
Tall Cacti
BUY NOW $30, etsy.com
Teeny tiny cacti may be the trend as of late, but you can never go wrong with a tall potted cactus. Obviously they prefer to be on the dry side, making them lower maintenance, but make sure you can put them in a bright, sunny location.
Olive Tree
BUY NOW $60, amazon.com
Go for those Tuscan villa vibes by growing olive trees indoors—just make sure you have a brightly lit spot to keep them in. Let the soil dry out in between waterings, and no need to worry about misting.
Yucca
BUY NOW $25, homedepot.com
Grow this beauty in a partially shaded but still bright location in your home to let it really thrive, and make sure you don't overwater it—yucca plants prefer to be on the drier side, after all.
Birds of Paradise
BUY NOW $74, amazon.com
Another tropical plant that can still thrive indoors: The bird of paradise lives for bright sunlight (indirect is best) and moist soil, which means regular watering cannot be skipped. Oh, and be sure to mist them, too.
В интеренете нашел авторитетный блог с информацией про
кредитное плечо
.
Наш интересный интернет-сайт , он рассказывает про
продвижение сайта в интернет
.