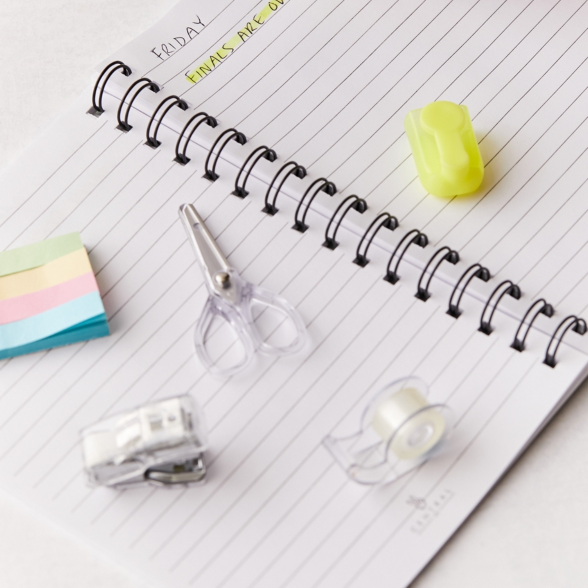 Back-to-school season can feel overwhelming, but it doesn't have to be so stressful. Sure, the kids might not quite be looking forward to going to class and doing homework again after a long, fun summer, but you can make the transition easier and a little more fun by stocking up on school supplies with a little personality. These desk accessories, pens, erasers, and more are all so cool, they'll be looking for excuses to do more schoolwork. (Okay, maybe not, but they are pretty cute.)
And these supplies aren't just for kids—college students will appreciate them, too. From organizers to keep their workspace tidy (and stylish!) and to cute necessities they'll love to show off in class or in their dorm room, here's everything they need to succeed in style this school year. No more boring notebooks and yellow No. 2 pencils here; these adorable school supplies are the real deal.
Kate Spade
amazon.com
$22.97
Keep schoolwork entertaining and organized with funny sayings like "Get a Grip" and "In a Pinch."
Patterned Daily Planner Journal
urbanoutfitters.com
$24.00
Is it even a new school year if they don't have a cool new planner to write all their assignments in?
These snow globe-like glitter-filled pens will make homework feel a little more fun.
Taking notes will be a lot less dull when they've got a binder as sweet as this chic, floral-patterned one.
Not for texting in class, but handy for keeping their phone safe and charged while they're in class all day
Kate Spade
amazon.com
$30.00
Brown bagging it is way less boring when you're not actually carrying a brown paper bag.
urbanoutfitters.com
$8.00
Any budding musician will appreciate these pencils that look like drumsticks.
Kikkerland
amazon.com
$12.99
This clever little dinosaur holds their pencils and important memos, so they're always on top of their to-dos.
Lady Jayne
amazon.com
$8.00
Upgrade their plain, boring scissors with this fun navy rose-printed pair.
Paper Source
modcloth.com
$15.00
These succulent-printed folders will keep all of their notes organized from class to class.
Maki Tacks Sushi Pushpins
Fred & Friends
amazon.com
$15.79
This adorable sushi tack holder will make them want to tack all their assignments up on the board, meaning they'll never forget a due date again.
Collect all their cute new pens and pencils in this dreamy, Parisian cityscape cup.
Not only are these neon pencil cases so fun, they're also see-through, so they can easily see if they've forgotten something.
Weekday Planner Cork Board
urbanoutfitters.com
$25.00
This desktop cork board has a little whiteboard section for notes, but also allows them to tack up memos for each day of the week.
Kikkerland
amazon.com
$9.17
You can get these precious pencils in the cactus shape seen here, or go with little woodland creatures or jungle animals.
Naturally Smart Colored Pencil Set
Moleskine
urbanoutfitters.com
$24.95
Get them all set and ready for art class—or for doodling in their margins.
Acrylic Desktop Organizer & Charging Hub
urbanoutfitters.com
$60.00
This fun neon desktop organizer keeps all their little desk supplies in check, but it also doubles as a wireless charger for their phone.
No need to get up to use the pencil sharpener—these adorable little pigs have you covered.
Nobody wants to haul a full-size stapler around, so go with a mini one like these—especially if you add a fun pattern.
Magical Unicorn Tape + Dispenser
urbanoutfitters.com
$15.00
Sure, it's a handy tape dispenser, but it's also so cute they'll want to keep it on their desk forever.
Burger Sharpener & Fries Eraser Set
Much like a burger and fries, a pencil sharpener and eraser make a classic combo.
Van Gogh Mini Notepad Pack
Ditch those standard sticky notes and go with a more artistic version, like these Van Gogh painting memo pads.
Fun in Functional Desk Planner
Paper Source
modcloth.com
$12.00
If they don't want to carry a planner notebook around with them, try this botanical desktop planner instead.
urbanoutfitters.com
$12.00
These mini school supplies (sticky note flags, a stapler, scissors, tape, and a highlighter) are so tiny, they'll barely take up space next to all their books.
Russell+Hazel Anthropologie
anthropologie.com
$14.95
This pencil pouch has a handy strap to hook it to their binder to keep them extra organized.
urbanoutfitters.com
$12.00
This desktop notepad comes with two matching pens and features space to write notes, to-dos, and more.