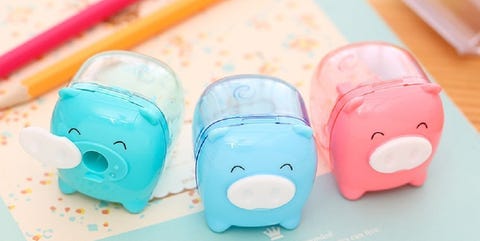 If going back to school at the end of summer is a torturous event in your household, you need to pull out every tool in your arsenal to raise morale. These school supplies are not only necessary, but they're also totally cute, so your kids are guaranteed to fall in love with them. Bargaining tool: Tell them they can't use them until their first day. Back-to-school blues will be a thing of the past. Promise.
Mini Donut Eraser Set
DoughMG. This eraser set is the cutest way to wipe out their mistakes.
Pineapple Print Backpack
They're going to need a totally cute way to tote all their supplies around. I'm obsessed with these mini pineapples (R.I.P. summer!).
Kate Spade Binder Clips
Keep schoolwork entertaining and organized with funny sayings like "Get a Grip" and "In a Pinch."
Golden Rule Ruler
They can learn the golden rule & geometry all in one.
Patterned Binder
Taking notes will be a lot less dull when they've got a binder as sweet as this bright, patterned one.
iPhone Case Charger
Don't worry, it's not for texting in class. Make sure your kids are never in the red zone in case of emergency.
Kate Spade Lunch Bag
Brown baggin' it is way less lame when you're not actually carrying a brown paper bag.
Card Case
Because every time they throw their lunch or field trip money in their backpack, they inevitably lose it. Make sure it stays with a design that's far from babyish.
Colorful Scissors
Art class just got a lot more fun (is that possible?!) with colorful scissors.
Mermaid Tail Pen
PSA: The mermaid trend is still a thing. Ride the wave with this sea foam-green pen.
Galaxy Spiral-Bound Notebook
This notebook is out of this world ... just like their grades will hopefully be.
Push Pins
Help your kiddos keep track of important assignments on their at-home bulletin board with fun, metallic push pins.
Neon Index Cards
Studying for a test can be a quick way to cure insomnia, but these neon cards are just bold enough to liven things up — and catch their eye in those stacks of papers they're rifling through late at night.
Lucky Cat Highlighter
That bulky yellow Sharpie highlighter will do the job, but it really can't compare to this bright pink lucky cat. I mean, c'mon.
Patterned Pens
Maybe if they have cute pens, they'll actually take notes. It's worth a shot, right?
Joni Pencil Cup
They'll be way more inclined to sit down and study if their at-home desk is filled with cute supplies.
Pencil Bags
They can corral all their pens and pencils in a sleek carrying case. Bonus: It's see-through, so they can easily see if they've forgotten something.
Dry-Erase Notebook Wall Decal
This dry erase notebook board will help them keep track of their growing to-do list. Tackling tasks is just more fun when you can draw on the walls.
Planner
Make sure they're keeping track of tests, rehearsals, and due dates with a totally adorbs yearly planner.
Moleskine Naturally Smart Colored Pencil Set
Get them all set and ready for art class — or for doodling in their margins.
Magical Unicorn Tape + Dispenser
They'll want to keep this little unicorn on their desks all day long.
Holographic Journal
They've got their notebooks and planners, now give them a space to channel all their creative energy.
Pig Pencil Sharpeners
No one wants to be that kid getting up in front of the class to sharpen a pencil during a test. Make sure they've got the tools to take care of business without having to deal with that screechy antique nailed to the classroom wall.
Wooden Desk Calendar
Now they'll have literally zero excuse for forgetting test day.
Paper Organizer Basket
Make sure they've got a different color for every single class.
Mini Staplers
Nobody wants to haul a full-size stapler around, but man, does having one make life easier when you're dashing to submit that essay last-minute. And in these fun prints, you'll actually want to be seen with it.
Узнайте про популярный блог с информацией про Best Grinders review
https://bestseller.reviews
У нашей фирмы популярный веб портал , он рассказывает про
https://buysteroids.in.ua
.