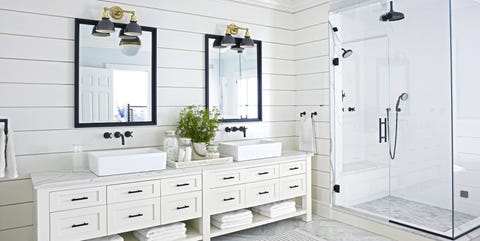 If I had to name the most disorganized spot in my home right now, I'd probably have to go with my the cabinet under the bathroom sink. Okay, well, maybe I'd actually go with the junk drawer in the kitchen, but, listen—we all have one of those, and my bathroom cabinet is absolutely a close second. Why? Because it's a tiny space to begin with, then add a giant pipe in the middle of things and it gets even harder to work around.
If you can relate, I have some good news to share: there are a surprising amount of organizers out there that are literally made to tackle this exact problem, so no matter how big or small your bathroom sink cabinet is, there's hope for order yet. It's all about finding creative ways to make storage happen, and these genius organizers might just change your life—or at least, make it just a little bit easier.
1
Expandable Under Sink Storage Rack
88 Main
target.com
$24.99
Pipes in your under-sink cabinet can really get in the way of most organizing boxes, but this storage unit has removable shelf pieces so you can arrange them around pipes, maximizing the space you do have.
Container Store
containerstore.com
$39.99
Or, upgrade your under-sink organizer with this expandable double shelf that makes room for pipes and includes slide-out drawers, too.
3
Pull-Out Organizer With Caddy
Clever Storage by Kesseboehmer
amazon.com
$67.95
This organizer attaches to the cabinet floor so you can easily slide the whole thing in and out—plus, the side caddy detaches, so you can easily take it and its contents with you when needed.
4
Over-Cabinet Storage Basket
An easy way to get the most out of your under-sink cabinet? Make use of the space inside the doors—a hanging storage basket, like this one, is a great place to store all the stuff you use most often, so it's readily on-hand.
5
Over-Cabinet Hair Tool Caddy
Home Intuition
amazon.com
Hair tools and products can become super cumbersome in your bathroom cabinet, so dedicate some inner-door space to a hair tool organizer like this one, that has shelf space for products, too.
6
Floating Cabinet Door Shelves
Rev-A-Shelf
wayfair.com
$19.16
Or, you can customize your cabinet doors by installing floating shelves like these ones, which you can adjust to fit your needs and the items you're trying to store.
7
Sliding Tiered Under-Sink Organizer
Rebrilliant
wayfair.com
$42.99
A slide-out system like this one allows you easier access to all of the stuff you're storing under the sink—and with tiered shelves, there's room for all your stuff.
8
Pull-Out U-Shaped Under Sink Organizer
Rev-A-Shelf
wayfair.com
$150.99
If you only have room for one tier of products, this pull-out organizer (with a U-shape perfect for making room for pipes) is the one for you.
9
Stackable Acrylic Organizers
To keep smaller items—think cosmetics, tweezers, bobby pins—stackable acrylic organizers like this pair should definitely do the trick.
10
Stackable Sliding Drawers
Simple Houseware
amazon.com
$22.87
These sliding drawer units are stackable, but they also work well on their own—you can put products in the drawer and stack things like washcloths or taller items on top.
11
Mesh Cabinet Drawer Solution
This drawer organizer comes in multiple widths so it can fit even the narrowest of cabinets. The different drawer sizes mean there's room for every type of product you need to store.
12
Plastic Under Sink Organizers
Container Store
containerstore.com
$6.99
Store your toiletries in easy-to-clean containers with these plastic bins that come in multiple sizes—perfect for customizing your storage space.
13
Pedestal Sink Bathroom Shelf
Rebrilliant
wayfair.com
$43.64
If you don't have an under-sink cabinet to organize in the first place but could use some extra storage, try a shelf like this that rests around your pedestal sink and provides hanging space and shelves.