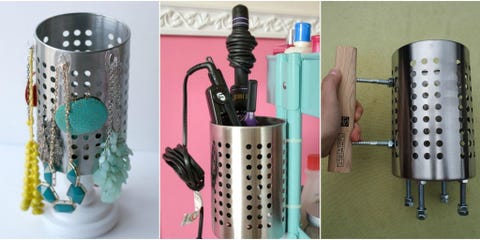 You know that utensil holder everyone and their mother has in their kitchen, because it's so convenient (and affordable!)? Well, hold onto your chef hats, because this container is equally amazing throughout your entire home. Take a look:
Never burn yourself on a hot curling iron or straightener again. Instead, stash 'em inside this nifty container as soon as you're done using them to keep them off of your countertop.
Use IKEA curtain wire mounts to secure the containers to the wall, then just make sure you have a pot inside of the utensil holder to catch the dirt and water.
Those little holes on the side of this utensil holder are perfect for hanging earring hooks. And when you stick mini command hooks on the top, necklaces find a new home, too.
When you hang this stainless steel organizer over a lightbulb, it creates a unique pendant that offers soft light to any room — although we think it would be especially clever in a kitchen.
5
Streamline Your Bathroom Storage
Toothbrush and toothpaste? Check. Hair tools? Check. Even fresh buds find a home in this wall organizer made out of a piece of white wood and three ORDNING utensil holders.
6
Keep Yarn From Tangling
Attention crocheters (or knitters!): Weave your yarn through one of the slots on the side of this utensil holder to prevent knots. You might even be able to fit more than one ball in the bin!
File this chimney starter under "pure genius." The handle keeps your hands safe from burns while the charcoal heats up inside so you can heat up your barbecue quickly.
Unlike most jewelry holders, this organizer is gender neutral. To use it for cufflinks, simply slot the backings through the holes.