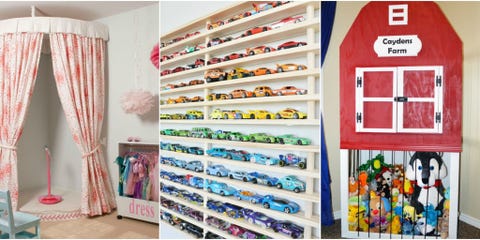 Building blocks covering every floor in your home is not a good look, but most parents know it's just the reality of having children. To encourage you, and your kids, to put dolls and LEGOs away after use, we're sharing some of the most stylish toy organization ideas ever. Trust us, they'll (almost) make you want to pick up.
Toy Car Garage
Anyone who has a child that loves Matchstick cars knows just how annoying it can be when they end up strewn all over the floor — not to mention dangerous. But this "garage" gives your kid incentive to "park" cars when they're done playing.
A Stuffed Animal Farm
Instead of letting all the stuffed bears and lions run wild in your home (and clutter it up at the same time), convince your kid they belong at the farm. Bungee cord "bars" are easy enough for your child to push aside when needed.
A Mini-Wardrobe
Every kid needs a stage when they play dress up. How else can they pretend to be their favorite pop star? Create a pretty mini-wardrobe to keep dress-up clothes accessible but also tidy.
A Clever Seat
Instead of just filling your daughter's room with tons of storage, make it functional. This blogger turned a shelf sideways and added a seat cushion to create a cozy spot to host a make-believe tea with friends.
A Swinging Shelf
Your kid will feel like he sleeps in a zoo when you set up all his favorite animals on swings around his bedroom. Even better: This idea will keep their stuffed toys up and out of the way.
A Color-Coordinated Closet
Even though closet doors help keep toys out of sight, how you organize this space still makes a huge impact on long-term success. This blogger created a cohesive look by using black-and-white labels to match the striped baskets.
A Rolling Craft Station
Even if you devote an entire room to arts and crafts, chances are your kid will want to draw everywhere but in that room. Which is why a rolling cart will be a total life-saver, since it'll help you bring the art supplies to them with ease.
Book Reading Nook
Nothing creates a winding-down tone quite like mood lighting. This blogger used plain crates and letter lights that spell out "read" to create a nook that will prove to kids reading is cool.
A Double-Duty Wall
If your home is tight on space, this genius organizer will save the day. Your kids can reach their cozy clothes on the bottom, while you can keep their books up and out of the way after bedtime.
A Sweet Kitchen
This retro play kitchen is a sight to behold — seriously, can we get this in life-size? But what stands out most to us are the gold baskets. This blogger spray painted the storage to match the kitchen's knobs and handles. Genius.
Colorful Bins
Can you believe this is just a white shelf with wooden bins inside of it? This blogger painted the trim a bold teal to make the boxes more dimensional and to help this storage blend in seamlessly with the colorful toys.
A Rolling Bookshelf
Sure, you might know this toy as a wagon ($225, ), but when you use it to corral books, it's really more like a vintage-inspired of way to keep things organized.
A Bench Play Station
The more bins, the better — at least according to this blogger. She separated each category of toys her daughter plays with (think LEGOs verses baby dolls) into each bin to help her understand how to clean up and compartmentalize when she's done.

>http://nissan-ask.com.ua
http://nissan-ask.com.ua>http://nissan-ask.com.ua
http://nissan-ask.com.ua<