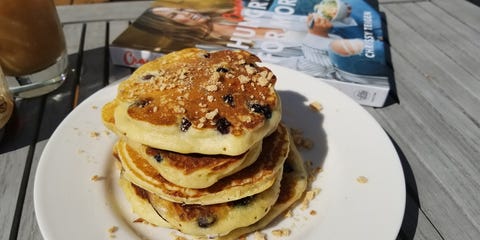 In a time when just about any recipe you can imagine—even ones you make up on the fly, like "Philly Cheesesteak...nachos!"—is available with just a Google search, it's hard to justify giving up an inch of priceless counter (or bookshelf) space for a cookbook. Anything that goes there better prove itself worthy of becoming the sort of tome riddled with sticky fingerprints and annotations; something with photographs so stunning, you're tempted to stack them on your coffee table and put them on display. (Hey, Meghan Markle did it, and so can you.)
After going through dozens of cookbooks hitting the market—even going so far as to pop them open and, you know, actually cook from them—these are the titles you'll want to refer to again and again. And again, even though you've already memorized the recipes.
1
Cravings: Hungry for More
Clarkson Potter
amazon.com
Before you judge—"a supermodel-turned-cookbook author?! Pass!"—you need to crack open this book. Chrissy Teigen's recipes are legit, featuring outrageous riffs on classic dishes you'll genuinely crave. Like Pad Thai Carbonara. And Skillet Broken Lasagna. And my new weekend go-to, Blueberry Cream Cheese Pancakes. (Plus, Chrissy's headnotes to each recipe have so much personality, you'll want to kick back and read this cover to cover. Trust.)
In just a decade, Christina Tosi's turned her little bake shop, Milk Bar, into a full-blown empire, with new stores popping up all over the country, a Madewell partnership, and a feature on Netflix's Chef's Table. But she's never been shy about sharing her recipes, and her latest cookbook is all about that cake, cake, cake, cake, cake. She even has some microwave options, for when you're feeling lazy, but really, the gem here is the section devoted to cake truffles. They're worth the effort.
3
Delish: Eat Like Every Day's the Weekend
Full disclosure: This pick is totally biased, because I used to work at Delish, and so, some of these recipes are mine. However, I wouldn't include it if I didn't truly believe in it. These recipes make it fun to be in the kitchen—even when you have to clean up afterward—with the kinds of Frankendishes you'll wonder how you've lived without (Buffalo chicken chili?! Tamale pie?! Boston cream pancakes?!).
All 275+ recipes feature a photo, so you know what you're getting yourself into, and every few dishes is punctuated with a story about some awesome meal you've got to get out of the kitchen and try.
Instant pots were last winter's must-buy holiday gift, but many of us were left scratching our heads: Sure, this multicooker can make anything, but really, how do you even use it? And what recipes are actually reliable here? New York Times food writer Melissa Clark bellied up to the task, taking the intimidation out of turning that contraption on.
More than 50 recipes in the book can be made in an hour or less, with a solid mix of classic weeknight dinners and surprising finds, like pimento mac and cheese or sriracha turkey meatloaf.
Even though the Barefoot Contessa doesn't consider herself a professional chef, it's safe to say she's picked up a thing or two during her years as a cook and Food Network star. Now, she's sharing every tip she has that takes a meal from mediocre to marvelous. So you can finally know exactly when it's time to stop cooking that filet of beef, or how to slow-cook your scrambled eggs just so, so that they're absurdly fluffy and custardy.
The book's very technique and classics-driven, making it the perfect primer for anyone looking to level up their cooking game.
6
Good Housekeeping Cookbook: 1,200 Triple-Tested Recipes
If you're less of a cookbook collector, more of a "give me everything I need in one book" type, this is the book for you. Good Housekeeping's renowned tome gets a 2018 update, and honestly, if you're in the mood to cook and can't find something in here, you're in serious trouble. With 1,200 recipes—all triple-tested, so you know they actually work—you'll be able to whip up everything from bellinis and strawberry cheesecake flapjacks for brunch to shrimp and grits or (my fave) ropa vieja for dinner.
7
Together: Our Community Cookbook
These days, Meghan Markle can't change her nail polish without it becoming headline news. Her wedding to Prince Harry this summer turned into an international watch party, and as all eyes continue to be on her, the Duchess of Sussex is putting that attention to a cause that's close to her heart: Together, a cookbook that features a West London community's favorite recipes. The recipes all come from women who gathered after the Grenfell Tower fire, who'd joined forces to cook meals for families in need.
Through the book, you'll learn how to make dishes like coconut chicken curry and caramelized plum upside-down cake, but you'll also learn these women's stories. Meghan writes the foreword to the book, but the real joy is getting a glimpse into these women's lives and what it means to truly come together in times of need.
8
Skinnytaste One and Done
Skinnytaste's earned a cult following for the blog's lightened-up takes on the kinds of decadent meals you'd find on restaurant menus (or passed down from your parents). This cookbook's perfect for the person who's always on the go but doesn't want to subsist on drive-thru meals—or just really loves cooking gadgets. It's focused on dinner recipes, all designed to be made in kitchen staples, like your slow cooker, Air Fryer, sheet pans, and—you guessed it—Instant Pot.