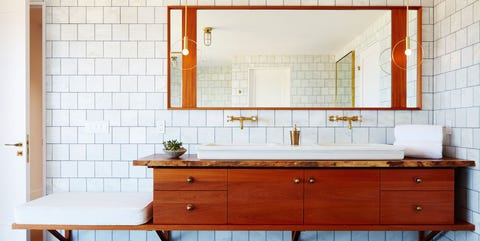 If you're planning a bathroom reno, there's a serious case to be made for taking your bathroom modern. It's a classic design style that has surprisingly stood the test of time, and the pared-down aesthetic can be stunning when done right. If you think of modern spaces as cold and character-less, though, think again. The following bathrooms are proof modern can be totally inviting—not to mention super sexy.
You don't have to add a ton of decor accents to make your modern bathroom feel more inviting—literally all you need is a rug. A colorful, patterned number will instantly warm up your space.
See more at Veneer Designs.
A potted plant is the easiest way to breathe some life into a simple, sleek bathroom. If you want to do something totally unexpected, put it in your shower.
See more at Amber Interiors.
A little bit modern, a little bit industrial—we're all about this warm, light-filled bathroom. The plush green and blue rug adds color and texture.
See more at Nicole Franzen.
A floating vanity = open space and clean lines for days. So basically, a modernist's dream.
See more at Veneer Designs.
A bright, bold color might not be traditionally modern, but it's a way to make the early 20th century design style feel fresh and fun.
See more at Black Lacquer Design.
6
Keep It Sleek & Streamlined
A floating tub is the ultimate in relaxation. This funky shape plays off the bold, graphic wallpaper in a way that's still calming to the eye.
See more at Veneer Designs.
To warm up a modern bathroom, play with natural materials like this wood countertop and stool.
In a sleek Hamptons house, the master bath has a Wetstyle tub for a futuristic feel. The gray color palette keeps it feeling soothing.
Calacatta marble walls and a gleaming Rêve tub by Kohler brighten this modern bath. A pom pom wall hanging makes it feel softer and cozier.
In a Boston, Massachusetts bathroom, a plane of frosted glass separates the wet side of the bathroom, with the open shower, from the dry side, with the sink. The decor is clean-lined and minimal, but the wood accent keeps it from feeling too stark.