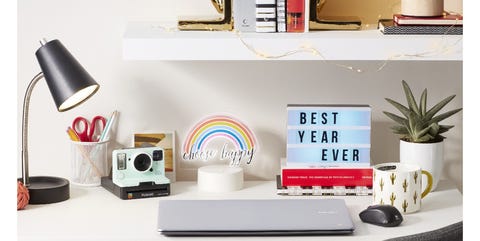 Decorating a dorm is tough — they aren't exactly cute by nature, and you're not given a lot of free space to work with. But you can actually do a lot with it if you have a few key pieces to make it less basic. We've rounded up some dorm room decor essentials you absolutely need, and if you prefer to DIY your decor yourself, we have ideas for that, too!
Make sure your dorm room is lit — literally and figuratively — with these delicate, wire-strung lights.
You need a spot to lounge other than your desk chair and bed. This one is plush, actually cute, and a rocker. Done and done.
Your bed is the only spot in your dorm that's wholly yours, so you have permission to go all out. That obviously means you need flamingo bedding.
This mirror serves double duty: It's a spot to get ready and check out your outfit in the morning (crucial) and gives you added hanging space for bags, scarves, or jackets.
You can't paint your walls, but you can cover them in temporary wallpaper!
Here's how to make your dorm room look party-ready 24/7. Add some candles, and it's boho vibes for days.
This modern lamp will boost the cute factor in your dorm, and let you charge your tech. Here's to never being in the red zone on your way to class ever again.
Dorm rooms can feel stark and cold. Warm it up with a woven, modern wall tapestry.
If you have to use a communal bathroom, you can at least have the cutest bathmat in it.
Make the least exciting task a little bit better with a cute printed laundry bag. This one has handles, so it's super easy to carry with you to the machines.
Even though this rug is neutral, the texture on it is so cool. It'll match with your and your roommate's decor, and — bonus! — it's small enough to fit in even the tiniest spaces.
No matter where you go to college, you can keep all your high school besties with you.