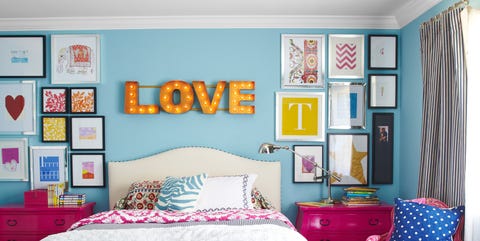 Painting is a serious pain in the a**. You have to move all your furniture and tape all the molding and then endure that god-awful smell for days, so before you decide to paint your kiddos room, you want to make sure they won't outgrow it, like, tomorrow. These shades are foolproof colors that'll last them from their terrible twos to their even more terrible teens.
Baby blue is for just that—babies. Go with a darker, richer shade of blue that'll make him or her love the room even when they hit the stage where you're not allowed inside of it.
See more at .
Try Behr Cerulean, $34, homedepot.com
Fact: If their room is bright and cheerful, they'll be more energized to get their homework done.
Try Behr Harbor Lights, $34, homedepot.com

Pure white can feel a little stark, so warm up the space with an eggshell shade. That way, you're still in the neutral family, and you can add contrast with decor and accent pieces.
See more at .

Try Glidden Essentials Antique White Eggshell, $69, homedepot.com
They're going to be drawing all over the walls anyway, so you might as well embrace it. Just get ready for all their friends to be begging to come over on the regs.
See more at .

Try Rust-Oleum Flat Black Chalkboard, $10, homedepot.com
This shade of blue may be the most versatile color ever, because it works with almost anything, from coral, to pink, to green, to yellow.
Try Glidden Essentials Echo Lake Aqua Flat, $15, homedepot.com

A classic sand color is neutral enough to work over several years and can act as a foundation, so the details can change as the child starts exploring his or her own personal style.
Try Behr Coastal Beige, $30, homedepot.com

The brightness of this color makes the room feel bigger than it really is and abundant in natural light, even though the window is relatively small.
Try Glidden Essentials Cool Lime Eggshell, $69, homedepot.com

Bonus points if you buy them a ship-shaped bed.
Try Behr Sea of Tranquility, $33, homedepot.com

When dolls and finger paintings are packed away, this particular shade of purple can actually look seriously sophisticated, so she (or he) won't be wanting to repaint the room the second they enter junior high. It's a true light purple, with no hints of blue or gray,
See more at .
Try Behr Timeless Lilac, $37, homedepot.com

This more toned-down blue gives the room a rela vibe (so hopefully they'll actually fall asleep by their bedtime).
Try Behr Ethereal Mood, $44, homedepot.com

It's a classic for a reason.
See more at .
x