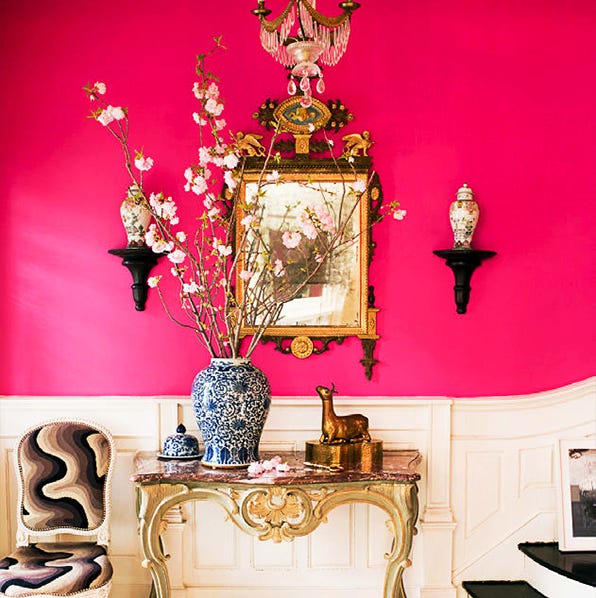 LEFT: Ellen Kavanaugh for The Inside; RIGHT: Jonathan Berger
Fresh, cheerful, and easy to decorate with, we rounded up the best pink paint colors to consider if you're embarking on a redecorating project (or just looking for some desk-side inspiration). After all, it is the best color in the rainbow—we know, we know, it technically isn't in the traditional rainbow, but once you see these pink paint colors in all their versatile, uplifting glory, it'll be your favorite color, too. So without further ado, read on for twelve interior designer examples, decorating ideas, and shopping suggestions for pink paint below.
Interior designer Janie Molster says there's no such thing as too much pink, and we happen to agree—especially when it's emboldened by red and white striped furniture. But if you just want to dabble in the bright color, start by painting a smaller area in your home, like in pretty window nook. It gives a bit of a romantic glow without feeling like you painted the walls with bubblegum.
Shop a similarly sunny and vibrant pink paint below:
Benjamin Moore Pink Starburst ($43) BUY NOW
With just a touch of gray in it, this powdery pink pairs beautifully with a variety of neutrals. In this space designed by Arent & Pyke, the monochrome upholstery and black and smoked gray sconce are brightened up by crisp white linens and warmed up by the light wood furniture. And even though it's bright and bold, it isn't overly sugary.
Shop a similarly warm and unique pink paint below:
Farrow & Ball Sulking Room Pink ($110) BUY NOW
So soft and sweet, this barely-there pink hue is a great backdrop for a variety of color schemes and styles. If you're drawn to pastel interiors or simply want to set the scene in a subtle way, take notes from this pink space designed by 2LG Studio.
Shop a similarly fresh and versatile pink paint below:
Farrow & Ball Pink Ground ($110) BUY NOW
This room is simultaneously friendly and inviting, grownup and sophisticated. And while it's definitely bolder and brighter than your average cream walls, it also has a nice absorbing depth to it. The burnt orange and chocolate brown upholstered armchair speaks to the room's spirited personality while the metallic gold tables and cool marble fireplace introduce a refined touch.
Shop a similarly deep and grounding pink paint below:
Farrow & Ball Ringwali Paint ($110) BUY NOW
A light, delicate pink that provides just a touch of oomph looks surprisingly good when paired with more modern, streamlined, geometric pieces. In this kitchen designed by GRT Architects, the modern lines and tonal palette feels fresh and modern while the pink color makes it feel open and bright.
Shop a similarly upbeat and sweet pink paint below:
Farrow & Ball Middleton Pink ($110) BUY NOW
Designed by Kate Reid, this little nook packs a lot of punch. She chose this surprising shade of pink paint, Benjamin Moore's Lazy Afternoon, to make the beautiful doors stand out even more. Unique and bold, the rich shade of mauve-meets-orchid-meets-magenta enhances the color palette of the nearby wallpaper. "My accountant said, "Kate, you shouldn't be buying an apartment because of the doors," she laughs, "but these were sort of a selling point."
Shop a similarly bold and versatile pink paint below:
Benjamin Moore Lazy Afternoon ($80) BUY NOW
If you're worried about pink paint becoming too stereotypically girly, opt for a paler shade with more peachy tones. Then decorate with moodier materials and contemporary furniture. This way, it'll blend in more than it stands out. In this living room designed by Elizabeth Roberts Architecture & Design, the splashes of navy blue marry that carefree vibe of peach with the more sophisticated energy of black marble.
Shop a similarly fresh and versatile pink paint below:
BEHR Marquee Angel Blush ($46) BUY NOW
Intense, eye-catching, and adventurous, we're loving the neon pink walls in this Greenwich Village living room designed by Katie Ridder (she used C2 Paints "Mulberry"). The contrasting sky blue tones and traditional furniture makes it more transitional and timeless. Use it in a foyer for a warm, welcoming, impossible-to-forget entrance.
Shop a similarly energizing and fearless pink paint below:
Benjamin Moore Peony ($43) BUY NOW
Baby pink is especially great when used in a bedroom bursting with cheeky personality. Designed by 2LG Studio, this bedroom is not holding anything back—and we're here for it. The bed frame, vanity desk, and stool are all upholstered in a luxe shade of royal indigo that creates consistency while also contrasting nicely with the light pink walls. Are you inspired to channel the 1980s yet?
Shop a similarly delicate and soft pink paint below:
BEHR Premium Plus Ultra Fading Rose Paint ($35) BUY NOW
Now here's a pink you can't miss. Eye-catching, lively, and oh-so upbeat, a true pink is a fun accent color in any room. If you're not sure you're ready to make a commitment to painting the entire room pink, experiment with color blocking (and extend it to the floors if you're feeling bold—you won't be sorry).
Shop a similarly spunky and playful pink paint below:
Benjamin Moore Deep Carnation ($43) BUY NOW
In a small space, a unique paint color really can make all the difference. In this living room vignette designed by 2LG Studio, the mauve walls and texture-rich grooved drawers set the tone for the rest of the space. We also love how the spherical table lamp plays up the round shape motif of the pink marble table.
Shop a similarly moody and soothing pink paint below:
Farrow & Ball Cinder Rose ($110) BUY NOW
Inspired by the homeowner's grandmother's signature lipstick, this fireplace steals the show. Designer Kristen McCory used "the hue throughout the house as an energetic counterpoint to the owners' vast collection of inherited art and antiques."
Shop a similarly adventurous and fun pink paint below:
Benjamin Moore Razzle Dazzle ($80) BUY NOW