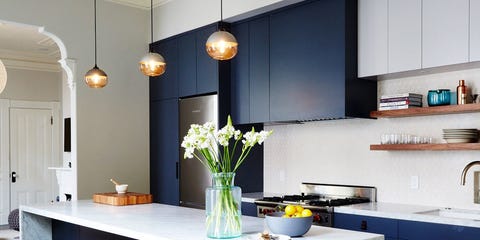 Choosing a kitchen cabinet color is hard enough, but choosing two colors to complement each other is downright anxiety-provoking. Do you want to go bold? Keep it neutral? Do something trendy? Or maybe stick to a timeless color scheme? The options are endless, but we've some inspiration to help you narrow it down. Get ready to mix things up.
This color combo is for everyone who really wants an all-white kitchen but just can't with how basic it feels. This still feels light and airy, but it's got a little something-something extra to give the room depth.
See more at .
Take blue and white to the next level with a vibrant burst of cobalt. It makes a statement but still feels classic.
Want to use wood in your kitchen but fear that wood-on-wood will look too rustic? Combine it with sleek lines and glass-front cabinets.
See more at .
If blue and white seems too coastal for you, opt for navy. The richer tone is grounding in a kitchen, and it looks amaze with brass hardware.
See more at .
Here's definitive proof that green can work in a kitchen. And we're not talking the sage trend of the late '90s. It's unexpected, sure, but once you try it, you'll want to spend every minute in this room.
See more at .
If the contrast feels too stark between white and blue, opt for gray. The cool tones create a mellow, rela place to get your bake on.
See more at .
Neutral on neutral. This combo will warm up a kitchen, but it's still timeless enough that you won't be dying to paint over it in a year.
See more at .