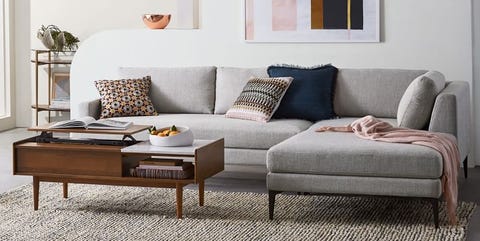 No matter how big or small your home is, there never seems to be quite enough storage space to go around. That's why it pays to sneak as much extra storage as you can into your space, so you can hide away clutter in style. And since your coffee table is probably always covered in stuff (think magazines, remotes, coasters, various knickknacks...), it only makes sense to get a coffee table that doubles as a place to stow away your stuff. And no, I'm not talking about getting a coffee table with a bottom shelf—I mean a table complete with secret, hidden storage compartments, like pop-up tops and unsuspecting drawers. Your living room will look so much neater, and you'll feel a little bit like a secret agent, so it's really a win-win situation.
1
Mid-Century Pop-Up Storage Coffee Table
One section of this table is an open shelf with a marble top, the other? A top that pops up and out so you can stow things away inside.
2
Safavieh Lift Top Rectangular Coffee Table
Lift up the top panel on this table to reveal a treasure trove of hidden storage inside.
Looks like a simple white coffee table with a wooden tray on top, right? Wrong. The inside is hollowed out, and the tray is actually a lid.
4
Union Rustic Lift Top Storage Coffee Table
The rustic finish on this coffee table and the gold-brushed legs are cool enough, but the pop-up top makes it even better.
Display magazines and collectibles in the glass-topped shelf section of this coffee table, and store extra stuff in the flip-down side drawer.
6
Naya Pop-Up Coffee Table
The facets along the side give this otherwise simple pop-up storage coffee table a whole lot of extra interest.
7
Glass-Topped Industrial Storage Coffee Table
No lift tops here, but if you look very closely, you'll see that the bottom shelf is actually equipped with two drawers.
8
Cornelia Lift Top Coffee Table
This coffee table may not seem like it has much room to spare, but the top pops open and reveals some storage space for smaller, shorter items.
9
Arka Glass Insert Black Storage Coffee table
The open, glass-topped section is great for displaying a few decorative items, but the best part is that both sides of this coffee table are home to storage compartments.
10
Densen Lift Top Coffee Table
Not only does the top on this coffee table lift up, but there's also a convenient little drawer on the side for items you want to have easier access to.